Boys' Tennis Team follow-up: State Championships
Hang on for a minute...we're trying to find some more stories you might like.
Thanks to their stellar regionals performance, the entire Aspen varsity tennis team qualified to play at last weekend's State Championship Tournament, held from October 10th-13th.
The entire season was a success and all of the players were proud of their accomplishments. They were undefeated, and it was due to the tremendous amounts of time they all put into practices. Each practice was held every day after school usually from 4 pm to 6 pm. Also, their season lasted from the start of school up until the State Championships.
AHS Freshman Robert Holton plays for the Varsity tennis team. He has been playing since he was 4 years old, therefore is an experienced asset to the team. He played doubles ranking 2 with Lukee Tralins.
"Personally, my partner and I, Lukee Tralins, we both loved it, we had a lot of fun. We knew that we would be very lucky to get as far as we did" Holton said.
The team won first at the regionals competition two weeks ago. They placed 7th at the State Championships in Pueblo, Colorado.
Junior Ethan Godfrey is a doubles player for AHS and had a great season this year.
"I think we had a pretty strong season, we were undefeated, our region wasn't the most competitive, but we made the best of what it was and we ended up winning regionals," Godfrey said.
According to Holton, the team also did significantly better than last year's State tournament. There is a majority of sophomores who have played on varsity both years at AHS and have really stepped it up this year.
AHS sophomore Bryce Cordts-Pearce has been playing for 6 years.
"My season went pretty well, I started out kind of low because I got back from a trip later in the season, so I had to work my way up from lower into JV to Varsity doubles 3," Cordts-Pearce said.
He and his partner, Ben O'Brien had an almost undefeated season, and he felt they played very well together. They took fifth place at states.
"I felt I did a lot better than last year because I actually played my heart out and tried my hardest," he said.

The entire team's achievements were a product of consistent hard work throughout the season.
Godfrey said, "We tried our best, used what our coaches were saying and gave it our all".

About the Writer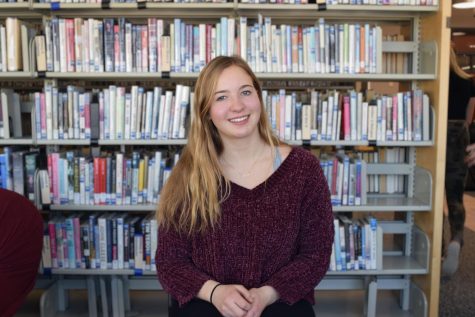 Kaelyn Kroeger, Staff Writer
Kaelyn Kroeger is a sophomore at AHS and a Staff Writer for the Skier Scribbler. This is her second year as a journalist and at AHS and recently moved...