Natasha Elise: Making Her Career Happen
Hang on for a minute...we're trying to find some more stories you might like.
With only a year of being seriously involved in her music career, 17-year-old singer-songwriter Natasha Elise who lives part-time in Aspen, has already released four songs. Elise considers Aspen her second home and spends time here several weeks out of the year.
Elise was eight years old when she discovered her passion for singing. She found her voice through musical theater, starring in a production of James and the Giant Peach in 7th grade. Elise was originally born in Greenwich, Connecticut but now resides in Beverly Hills, California. Elise had an unconventional childhood, opting for online school over a traditional school system to focus on her music.
"I chose to do online schooling for the main purpose of pursuing my music career and I want to use all that time to go to the studio. I don't want to sit in a classroom for seven to eight hours a day and not be working on what I love to do," Elise said.
Even at a young age, many people find what they're passionate about and do everything in their power to make their career happen. Elise always knew that she had a love for music.
"I have always been obsessed with music since I was two years old. I would just dance in my high chair. It's funny because I really never thought of it as a talent. Everyone would tell me, 'Oh my gosh, you're so good!' or 'You're so good for your age!' Then I was like, this is what I want to do," Elise said.
Elise is an independent artist. Usually independent artists have to pay for expenses related to their musical career, whereas an artist with who is signed usually does not. However, working as an independent artist gives Elise an immense amount of freedom to explore and be creative.
"I am one of those people who doesn't like being placed inside a box or a genre because I want to do so many different kinds of music. I just try not to put myself in a genre." Elise said.
Some of Elise's favorite artists are Halsey, Ariana Grande, and Lana Del Rey, who she credits as her inspirations.
"Most of my inspiration comes from experiences that I've been through or things that I've seen others go through. Those are for the most part what I draw from and people I meet, stories, and how I connect with them as well. It's kind of a mixture of all that."  Elise said
One of Elise's singles titled "Space" is about a stressful experience she went through. The song also has a music video which currently has over 60,000 views. Elise wrote the song as a way for her to reflect on a hard time in her life.
"I wrote this song about a specific time in my life.  I tried to resemble what was going on with the person I wrote the song about. I kept going back to that person and I knew it wasn't for very good reasons." Elise said.
Elise is hoping to perform in Aspen this winter as well. Delaney Tullar, an AHS sophomore, was surprised by Elise's talent.
"She's a really good singer. I think she's really genuine and her lyrics tell a story. Each song is very meaningful." Tullar said.
Elise hopes to shed light on a younger generation of singers and inspire them to follow their dreams.
"Just sing all the time. Whenever you can, sing in front of people, in the shower, and at any time during the day. Your voice will only get better if you do that. Always be doing it and never sacrifice singing if you think you can't get to your goal." Elise said  

About the Writer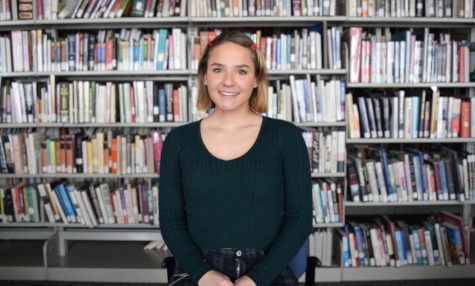 Bella Hoffman, Staff Writer
Bella is a senior at AHS and this is her third year as a staff writer for the Skier Scribbler. Bella is also apart of the AHS Dance Team and spends her...