Aspen Mountain opens early:
Hang on for a minute...we're trying to find some more stories you might like.
Opening Day of Aspen Mountain came early this year and skiers were ready to hit the slopes.
There were 175 acres of terrain open and 25 trails with an 11-14 inch base. According to aspensnowmass.com, this season's forecast for snowfall predicts an average year, but thanks to several early storms, the mountain was able to open early. Aspen Mountain opened on Saturday, November 17th. The usual opening day is on Thanksgiving. Aspen locals and regular winter tourists got excited to go skiing.
On account of drought conditions, the 2017/2018 ski season was short and lacked the snow quality typical of the Aspen area. As a result, the community is even more thrilled for the start of this year's season.
29-year-old Aspen local Daniel Files is excited to be back on the slopes.
"I'm in town anyway and I wanted to experience the mountains since I just got here and it's my first time," Files said. "I think it's great because I live and work here, It's really perfect for me and [Opening Day] came at just the right time".
The terrain availability was also variant, with Silver Queen Gondola, Ajax Express, Little Nell and even Chair 5 (the Bell Chair) open for skiers to enjoy.
Public Relations Manager Liz Rovira works for Aspen Skiing Company and believes this season is going to be a major improvement from last year's conditions.
"We are thrilled to open up the mountain early and we're very excited about the terrain we were able to open on Aspen Mountain. Gondy plaza was full of energy and stoke on Saturday and it feels like it's going to be a great season," Rovira said.
Rovira said that the effective staff members that work for Aspen Skiing Company were productive in working towards a great and early start to the season.
John Viola is a sophomore at AHS and grew up in Aspen. He has been skiing since he was about two years old.
"[Opening Day] is really exciting. I finally get to get back on skis with my friends," Viola said.
The weather was sunny for most of the day, and the skiing conditions were optimal for such an early start.
"I have to say it's a lot better than last year's opening, I expected less [snow] to be honest, and I'm kind of proud of how it came out," Viola said.
Locals are hopeful that an early start to the season and a few big snowstorms are a preface for a great season.
"I think it's definitely a good sign for the season, but I mean weather's unpredictable: you never know," Files said.

About the Writer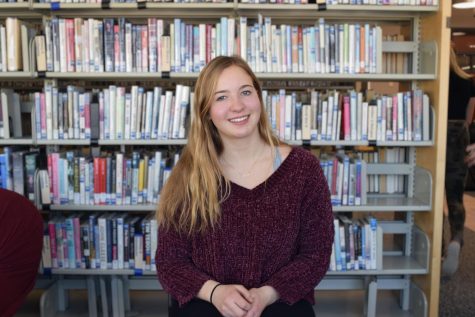 Kaelyn Kroeger, Staff Writer
Kaelyn Kroeger is a sophomore at AHS and a Staff Writer for the Skier Scribbler. This is her second year as a journalist and at AHS and recently moved...