After Pittsburgh massacre, Aspen's houses of worship consider adding more security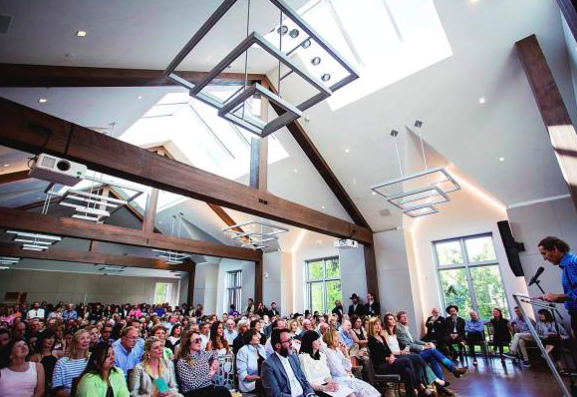 Under the Chabad Jewish Community Center's stately chandeliers and white vaulted ceiling, a standing-room-only crowd of Jewish and non-Jewish mourners gathered in remembrance of the Pittsburgh massacre victims and to discuss the safety of Aspen's places of worship.
In one of the deadliest attacks ever on the Jewish community in the United States, a man screaming anti-Semitic slurs opened fire inside the Tree of Life Congregation on the morning of Oct. 27. Eleven congregants were killed and six others wounded during the Shabbat service.
Rabbi Mendel Mintz and Mayor Steve Skadron lead a tearful gathering on Oct. 29 in Aspen's Chabad building on Main Street. Father John Hilton along with a deacon at St. Mary Catholic Church also pledged to stand and speak with members of the Jewish community. Mintz invited the local community to the ceremony to honor the deceased and to ask God to bring strength and comfort to the victim's grieving families.
"No words can possibly describe this pure evil," Mintz said in an email. "Jews who gathered to pray and celebrate Shabbat were killed for no reason other than the fact that they were Jewish. The killer's bullets were aimed at us all."
While the attack prompted Jewish communities around the country to boost security measures, the Chabad Center and other local religious groups grapple with drawing a line between keeping the congregation safe and losing sight of its mission.
"From every tragedy, we cannot hide and be scared, rather we must grow from it and show more pride in who we are and what we believe in," Mintz said in an interview a week after the service. "Practically speaking, we have already implemented more security and have been working closely with the Aspen Police Department. We are working on being more vigilant and putting in a whole host of security measures to make sure everyone feels safe. We may need hired help to protect the facility and restrict access while remaining inclusive and welcoming."
Jewish congregations are facing bigger threats of terrorism, crime and violence each year, and houses of worship need to prepare accordingly. The Anti-Defamation League reported a 60 percent surge in anti-Semitic incidents in 2017, while FBI hate-crime statistics for 2016 show that over half of reported anti-religious hate crimes in the U.S. were motivated by anti-Semitism.
As anti-Jewish crime rises, Skadron acknowledged the increasing importance of protecting Aspen's Jewish community.
"As a mayor, I want to make sure we are prepared to protect locals to the best of our ability," Skadron said. "I have to think, sadly, it is not a matter of if, it is a matter of when. My level of concern that something like what happened at the Tree of Life could happen here is an absolute maximum. Ten out of ten."
Skadron noted that it is necessary to plan as if a tragedy will strike, telling The Scribbler that his primary responsibility is the health, safety, and welfare of every citizen in this community. However, he also acknowledges those who would prefer to believe that nothing like Pittsburgh could happen in Aspen.
"We reach a point often in public discourse where there is a clash of values, and this is a conversation houses of worship have to have…and the values are giving up some of your freedom in exchange for greater security, and I think that's a value proposition best decided by each institution itself," he said.
Balancing security with a welcoming environment has been a recurring struggle for religious organizations accustomed to leaving their doors open. Chabad board member Alan Altman appreciates this open-door policy and takes pride in "The Three C's": Chabad Community Center.
"How do you balance openness with making people feel secure and safe?" Altman asked. "You don't want a fortress. You don't want police out front checking IDs as people come in, because that takes away from the whole essence of the center, yet, you have to make people feel comfortable."  
But according to Ed Foran, who spoke at the Oct. 29 Chabad gathering, heightened security is no longer just a choice.
"I think in some ways in Aspen we're in a bubble and we just go on with our daily lives and we feel like we're immune from these outside forces," Foran said. "If it can happen in Pittsburgh, it can happen anywhere in this country, even Aspen."