Girls basketball gets a fresh start with Aldridge
Hang on for a minute...we're trying to find some more stories you might like.
As AHS gears up for another successful winter sports season, the Girls Basketball team preps for something else: a new coach. After former coach Greg Peterson resigned at the end of the 2017-18 season, James Aldridge will take over the coaching position.
"I was actually supposed to be coaching boys basketball, and my wife and I were hiking one afternoon, and the idea of coaching varsity girls arose. So, we went forward with it in hopes to bring some new energy to the girls' basketball program," Aldridge said when asked about why he took the job.
Aldridge, who has coached many sports at AHS, including Track and Field, Football and Boys Basketball, has a unique approach to the job.
"I enjoy coaching high school sports as it's part of my community outreach to teach and instill a mentality. No matter the platform it's the same mental toughness, and installation of composure, as well as character, is my goal when coaching," Aldridge said.
After an unsuccessful season last year with many losses, the girls are ready for redemption. The players, including senior Lexi Ferlisi, have recognized their strengths from last season, and are ready to utilize their bond as a team in this upcoming season.
"We worked really well as a team and learned how to communicate with each other, [but] we didn't have many successes," said Ferlisi.
Due to the girls revamped enthusiasm entering the 2018-19 season, it seems as if James Aldridge will be able to coach them through a rewarding season.
"My only real goal for the team this year is to bring a new identity to the program by being fundamentally sound as well as mentally tough," Aldridge said, adding "also to bring an expectation to compete and be a threat in the Western Slope League."
The girls are reportedly excited to start pushing themselves once again, and can't wait for the new season. According to junior Kat Gorolka, a new coach is just what the team needs.
"I think we're all really excited to have a fresh start. We're looking forward to the new drills and advice that all of the new coaches will be bring," said Gorolka.
Already this year has started off well, with intense pre-season open gym practices and the girls are off to a strong start with the new coaching methods Aldridge brings to the table.

About the Writer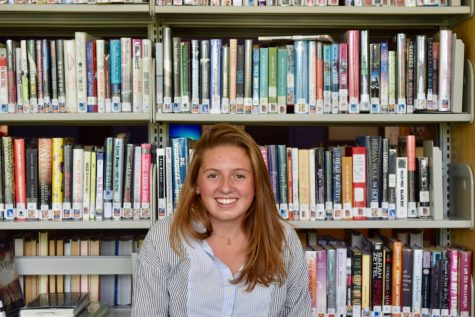 Taylor Pattillo, Staff Writer
Taylor is a senior at AHS and this is her first year as a Staff Writer for the Skier Scribbler. In her free time, she enjoys staying active and hanging...