Free Solo, a harrowing adventure
Hang on for a minute...we're trying to find some more stories you might like.
Free Solo is a beautiful, inspiring, and nerve-racking experience that frames a spectacular film by Elizabeth Chai Vasarhelyi and Jimmy Chin, who is also known for another climbing movie Meru. The audience was intrigued with the mix of characters, emotion, and cinematography that is well-balanced.
The movie chronicles the incredible story of Alex Honnold, a free solo climber who dares to scale  El Capitan in Yosemite, California. The roller coaster of physical and mental fitness and life or death scenarios is truly a thought-provoking experience.
The story is unique in that it was told from so many perspectives of the people who are close to Honnold. It is incredibly difficult to communicate to the audience how dangerous Honnold's trek up El Capitan was.  In order to do so, Vasarhelyi and Chin filmed from angles that allowed the audience to see the climb from Hannold's point of view. From a production perspective, the use of climbers and drones is innovative to the quality of the film. Also, the reactions of the filmers was a scaling point to understand the emotional journey for everyone.  Moments of stress, moments of melancholy, moments of frustration, and of course moments of joy. These multiple perspectives create a unique and nerve-racking experience leaving the viewer breathless and in thought.
Honnold's dedication and love for climbing are apparent, but it is his honest personality that helps the audience connect. After growing up with strict expectations from his parents, Honnold holds himself to those same expectations. The awkward social communication creates a complex conflict when Honnold is torn between self-gratitude and pleasing others.
This young climber's connection to free soloing exposes his passion but also demonstrates some of Honnold's clouded judgments. His struggle to relate to other people's emotions and his fearless takeaway on the chance of death, no matter what the consequences for his friends and family, is communicated through the sheer focus and preparation for this climb. Honnold's morals are inspiring in that he puts what he loves first, not only to make himself happy but to feel a sense of accomplishment about what has done with his life. His mental fitness is almost self-manipulable along with his insane fitness to climb thousands of feet with no support. While often the things around him could be considered a distraction, Honnold's intensity steals him away in the most determined way.
One of the strongest aspects of this film was the orchestration. The dramatic uproar of sound indulged on the moments of triumph or fear or emotion. This elevated the flow of the film and kept a kind of pulse throughout the movie. While some scenes were silent, other scenes were perceived as extremely intense. Meanwhile, the silence was so powerful to encourage the intensity of Honnold and his climb. Everyone was holding their breath in anticipation.
With characterization, social and personal connections, and a thrilling storyline, an outstanding balance of emotions and conflict and victory create this film. The personality of Honnold and all the people around him is touching while the intensity of the task is inspiring.

About the Writer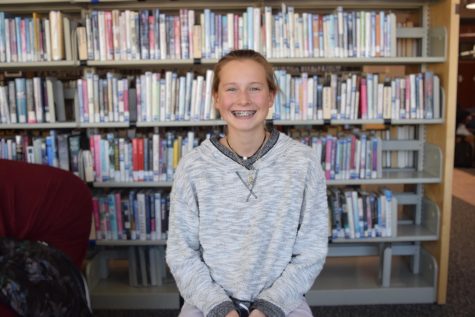 Stefani Wojcik, Staff Writer
Stefani is a sophomore at Aspen High School and this is her first year as a Staff Writer for the Skier Scribbler. She hopes to continue writing for the...