Aspen, Colorado – the mini Hollywood
Walking down the luxurious streets of Aspen, Colorado during Christmas time will most likely result in at least one celebrity sighting. They may be on their way to an apres-ski party at Shlomo's or picking out a new Gucci belt to add to their collection.
Aspen has always been known for its glamorous views, luxurious hotels, apres-ski spots, premium stores, 5-star restaurants, and most of all the highest quality of skiing. The number of tourists that vacation in Aspen has continued to grow over the last few decades, boosting the popularity and bringing celebrities with it.
Curt Englemann is the Hideout (kids ski school) Operation Lead at Buttermilk Mountain. He used to work in the film industry, so he thinks meeting celebrities is uninteresting and "as dull as dirt".
"I get a lot of the kids of celebrities, Kim Kardashian's kid was just here, a lot of the football players and stuff like that," Englemann said.
Georgia Noyola, a front desk employee at the Little Nell Hotel, spots celebrities yearly, however, has never been face-to-face with a celebrity on the job.
"I might get a little bit nervous [if I ever met a celebrity,]" Noyola said.
Well-known actors, singers, athletes, models, and more consider Aspen, Colorado as the perfect holiday-getaway or ski trip during the winter months.
"They definitely come here because they can walk down the street and no one's looking at them. They can dress down or dress up, it's one of those towns where the wealthiest person, like a billionaire, could be here and be dressed like a hobo and not care," one Hotel Jerome employee said.
Aspen's main appeals are the beautiful landscape of mountains and trees, the small quaint town, the combination of various high-end clothing stores and local retail shops, and the extravagant hotels.
An additional Little Nell employee thinks that celebrities tend to stay more in homes rather than hotels, most-likely because celebs want to be private.
"We don't get a lot of celebrities because celebrities won't pay our rates. Lots of celebrities want discounted rates and we don't do that here," she said. "It's kind of funny to think about it that way because celebrities have a lot of money."
Since the 1960s, celebrities have holidayed in Colorado's "mini Hollywood". The rich and renowned are also drawn to Aspen's Christmas-tree lit walkways throughout the town (pretty much all year).
"Some of them are real lowkey, people like the Nascar guys, and then other people where we have to do a lot of babysitting. We have to open early or close late, or there's a big orchestrated thing to accommodate their particular wishes," Engelmann said.
The most well-known celebrities that visit or have visited Aspen, Colorado are the numerous members of the Kardashian and Jenner families, Mariah Carrie, Gigi Hadid, Rita Ora, Elton John, Kate Hudson, the Trump family, Jack Nicholson, David Stern, Will Smith, the Obama family, Michael Jordan, Heidi Klum, Cindy Crawford, and the Clinton family. That is only a small percentage of famous people that are seen in Aspen.
An employee at Hotel Jerome says she sees upwards to about 50 celebrities in Aspen and Snowmass each year.
"Celebrities tend to come to Aspen for vacation because of the reputation behind it, even if people don't ski or mountain bike during the summer, they're here to be seen. Just because it's like Manhattan, it's like South Hampton, it's like Malibu, Beverly Hills: it's the name. It's hard to get to, it's just exclusive," she said.
About the Contributor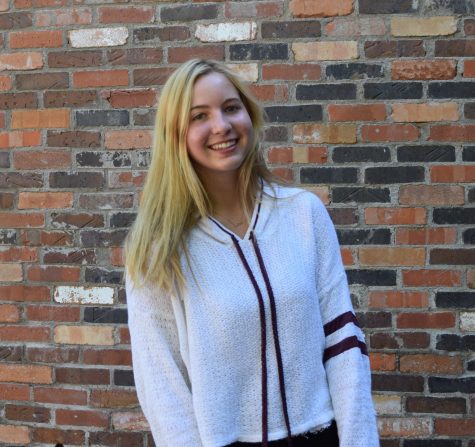 Kaelyn Kroeger, Staff Writer
Kaelyn Kroeger is a junior at AHS and a Staff Writer for the Skier Scribbler. This is her third year as a journalist and at AHS and recently moved to Aspen...