Life of the Aspen lifties
Hang on for a minute...we're trying to find some more stories you might like.
Skiing is the most popular activity for most and has been in Aspen. With it comes ensuring safety, a major part of the ski operation since Aspen's first lift in 1937. Lifties (lift operators) in Aspen are responsible for ensuring that the lifts run safely.
The lifties generally arrive at the top of the mountain around 8 am. They arrive at their designated lift and get set up for the day by 8:30 am. Most lifties on Aspen, Highlands, and Buttermilk have a set schedule where they are assigned to certain lifts on certain days.
Matthew Staton, a first-season employee from Alabama is a snowboarder and works two days at the couch, two days at Ajax Express, and two days at FIS.
"Normally, it's pretty relaxed, you just hang out all day and stand in the snow," Staton said.
The job of a liftie involves a lot of attention to detail. Those that arrive earlier in the morning are tasked with running several checks and runs to make sure the lift will run without error during operational hours. They have to check in with the person running the lift at the top and check all of the buttons and switches.
Whitney Gare, from Portland, Oregon, is a liftie at Ruthie's chairlift and is in charge of maintenance and management of the lift.
"I have to get this [lift] running, so I have to go up and check all the tires and belts that run this thing and make sure the hydraulic fluids all set up," Gare said.
There are also those that have retired from other jobs and enjoy working as a liftie for Aspen Skiing Company, for a number of reasons. They like the mellow aspect of the job, getting to meet the resort's guests, and seeing local friends. A shorter work season is also a big appeal, meaning they are off during the summer.
One of these retirees, Dee Benson, who previously retired from teaching at Basalt Middle School, has been working for Ski Co. for one season.
"I enjoy meeting all the guests, I don't find it really boring. When it is slow, we always stock things or shovel walks or something," Benson said.
There is a variety of different weather patterns that can affect how a liftie's day will go. Sunny, bluebird days tend to attract more skiers and tourists in contrast to cloudy or stormy days when there are usually more locals and extreme skiers. The work can also be tedious if everyone coming through has headphones in or if they dislike who they're working with according to Staton.
"Essentially, the liftie's job down here is to make sure that nobody gets hurt to the best of our ability and keep the lift running," Staton said. There are also numerous challenges that come with being a liftie.
"There are some lifts, like FIS where you have to push the lift just so it doesn't come whacking into someone," Gare said. "I used to work at FIS, and I was not a fan, it's exhausting on your shoulders."
There is also the given foolishness of tourists and unfamiliar skiers that lifties have to manage during the on seasons.
"Oftentimes, at three person-chairs, you'll get more people trying to load, people will drop stuff and sometimes kids or new riders will need us to slow it down," Gare said.
Despite the numerous challenges that Aspen lifties are faced with, the majority seem to appreciate the job and have fun with it.
"You can see so many people just having the best time, and that's kind of nice," Gare said.

About the Writer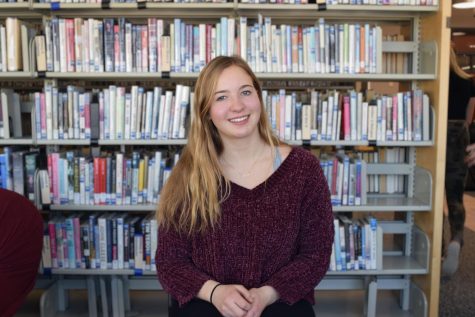 Kaelyn Kroeger, Staff Writer
Kaelyn Kroeger is a sophomore at AHS and a Staff Writer for the Skier Scribbler. This is her second year as a journalist and at AHS and recently moved...