Aspen High's College Case Study
For many high school students, constructing a college application is a formidable and intimidating task. Knowing what virtues schools seek within their student body is a completely elusive concept for many college applicants. Luckily, for AHS sophomores and juniors, the Office of College Counseling will be offering answers to these questions this Wednesday, April 17 in Aspen High School's first College Case Study.
During the Case Study, students and parents will have the opportunity to learn from college admission representatives about what they look for in their prospective students. Participants will also be given an inside look into the college admissions process, conducting a small-scale version themselves. This process will be led by the representatives, using mock applications to model the actual process. In the days leading up to this event, the representatives will be participating in similar case studies at Front Range high schools, including Fountain Valley, Peak to Peak, Dawson, Kent Denver, and Colorado Academy. AHS College Counselor, Charlie Laube, explained the value of this event, and of it coming to the public school sector at AHS.
"We are honored that the admissions representatives are taking time to make their way out to Aspen. The fact that they are making their way to Aspen speaks directly to the quality of our students," Laube explained. "We hope that by engaging in a program like this and listening to what the representatives have to say, students and parents can begin to learn about the complexity of the application process. We also hope that they will walk away with a clearer understanding of how to present themselves in their application."
AHS senior, Clara Maxwell, shared her thoughts on the admissions process, and the value an event like this could have for future college applicants.
"This [the College Case Study] would have been very helpful to have when I was applying to schools," Maxwell said. "I think it's just a unique perspective to get. It's much more convincing to hear advice from the people who actually look at your applications. I think this program would've given me a great opportunity to get a better understanding of the admissions process and go in and self-revise my applications."
When Laube worked as an admissions representative himself, he spent about 10 years as a presenter at similar case studies. Having a unique perspective from events like this- and the application process in general- Laube wanted to emphasize the merit of this case study, but also in a genuine application.
"Without question, this was the most beneficial program that I had the opportunity to be a part of [as an admissions rep.]. It cut out the chatter and got right down to the facts of, 'here's how we review applicants'," Laube said. "We want to bring this to students and families so that they can see, 'alright, here are the things that colleges are actually putting stock in.' However, you can't set out to construct the perfect application. The perfect application is that which is authentic to you, and it will resonate with the right schools. No school's decision- positive or negative- can validate who you are."
        Check-in for the event will commence at 5:15 p.m. in the District Theatre, where parents and students will be broken up into small, classroom groups. After conducting a mock admissions committee in these groups, participants will move to the AHS commons for a small-scale version of the college fair. Each college in attendance will have a booth and be open to questions from, information for, and discussion with students and parents. An email with directions on signing up for this event was sent out last week from College Counseling, and can also be found on the AHS website, under Spotlight.
    Laube and the College Counseling Office wanted to accentuate the significance of this event and AHS students' involvement in their college search.
     "We are really happy that the community is so supportive of their students and this is just another way that our office is trying to make sure that everyone has the tools they need to be empowered to go through this process. The students are the owner of it," Laube said. "We don't want your college search to happen to you, We want you to be in charge of it. It's so much better that way."
   *Schools in attendance include: Bates College, Case Western Reserve University, Chapman University, Colorado College, Colorado School of Mines, Colorado State University, Dartmouth College, Davidson College, Dickinson College, Grinnell College, Hastings College, Hobart and William Smith Colleges, Johns Hopkins University, Miami University, Regis University, Saint Louis University,   Clara College, St Olaf College, Texas Christian University, The University of Chicago, Tulane University, University of Colorado Boulder, University of Denver, University of Michigan, University of Oregon, University of Puget Sound, University of Richmond, University of San Francisco, University of Virginia, University of Wyoming, Vanderbilt University, Western Colorado University.
About the Contributor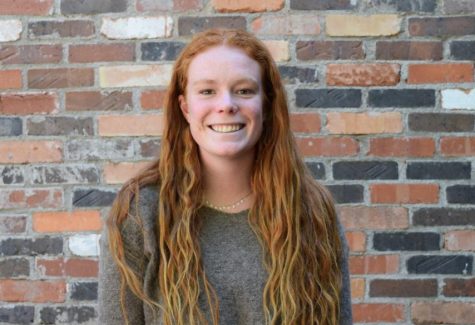 Maeve McGuire, Editor-in-Chief
Maeve is a senior at AHS. This is her third year writing for the Skier Scribbler, now working as Editor-in-Chief. In her free time, she enjoys playing...