"Five Feet Apart" Movie review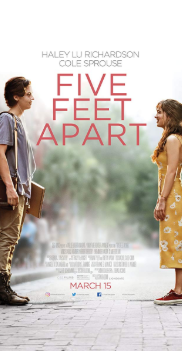 In "Five Feet Apart, " Stella Grant, (Hayley Lu Richardson) is a vibrant, seventeen-year-old cystic fibrosis patient that has spent most of her life in the hospital. She is incredibly organized and follows a strict regimen to ensure that she is in control of her treatment. When she checks herself into the hospital to fight an infection, she meets the witty and rebellious Will Newman (Cole Sprouse). Also in the hospital is Stella's best friend Poe (Moises Arias). However, due to the nature of their illness and vulnerability to infections, these CF patients must stay six feet apart at all times to prevent the possibility of infection.
   Directed by Justin Baldoni, the movie is dedicated to real life CF patient Claire Wineland, who recently passed away after suffering complications following a lung transplant. Wineland founded a non-profit organization called "Claire's Place Foundation" to help support people living with chronic illnesses. Baldoni met Wineland when producing his television series "My Last Days," which follows the lives of six people living with a terminal illness. While filming the show, Wineland became very close to Baldoni and his family, and his movie hopes to carry on her legacy and honor her memory. This is the first film Baldoni has directed.
   During their time in the hospital, Stella and Will begin to develop feelings for each other. As their relationship progresses, they are forced to grapple with the restrictions their disease places on them.
   "Five Feet Apart" is a tale of friendship, love, connecting with the people in your life, and it is a heartbreakingly beautiful story.
Leave a Comment