Trey Thorpe: The Life of a Spirited Athlete and Driven Student
Between football, skiing, baseball, and additional conditioning, Trey Thorpe's athletic hours range from 12 to 18 hours a week. With this, he must also set aside time for his academics as he takes three IB classes as well as AP calculus. Between his academic, athletic, and social life, though it's challenging, Thorpe seems to manage it all.
"I try to get stuff done when I can and I get a lot of sleep, which helps. The biggest thing is probably keeping in good contact with my coaches, letting them know what my schedule is and how I can participate," Thorpe said.
Reed Beidleman, a close friend of Thorpe's, has been a classmate and a close teammate for many years now.
"Trey is unique in that he does an incredible job balancing school and athletics. He not only balances them but manages to give his all in everything he takes on," Beidleman said. "Trey is authentic, humorous, genuine, trustworthy and also very personable."
His winter schedule – consisting of games, races, and practices – means missing classes at least one day of the week. He often is forced to get his work assigned early in order to turn it in on time.
"I have learned how to just put my head down, focus, and get done what needs to get done. I also have learned communication – as long as I knew what I needed to do and didn't put things off, I was fine," said Thorpe.
Joey Dziedzic, AHS baseball coach, has coached Thorpe for four years experiencing his growth in athletics, academics, and personality.
"He is what every coach wants in a player. He works hard, he gives 100% every day all the time. He is a great listener and one of the most positive kids I've ever met," Dziedzic said. " Trey makes his teammates better. They react well to him. He is so relaxed and positive that they feed off that and are better because of it," Dziedzic added.
As a result of his involvement in sports Thorpe has also suffered numerous head and shoulder injuries.
"Making a strong recovery from all of those [injuries] is important so as to not miss too much. I think in this way, sports have taught me how to bounce back from setbacks and keep pushing," Thorpe said.
With the ramifications of balancing such a busy schedule, between injuries and school work, Thorpe is motivated to continue his actions for reasons beyond college.
"I really just love all the sports I do and I can't imagine not doing them. I have been busy with athletics for so many years that I am accustomed to all the work and energy they require and it doesn't really seem that hard to me anymore. I just go day by day and try to enjoy myself," said Thorpe.
Though it seems that Thorpe is limited on free time, most of his friends are also his teammates.
"Many of my friends are those that I do various sports with but I try my best to hang out with people I'm not in current sports with, and sometimes that works out but a lot of the time it doesn't," Thrope said. "We always joke that ski team has ruined our social life because we spend so much time away from home during the school year."
Beidleman is also a very talented alpine skier and a very committed student so understands what Thorpe carries.
"I believe his motivation and pursuit of excellence in athletics and school have helped him accomplish his goals," Beidleman said.
His achievements through nine varsity letters, all-conference honorable-mention, all-state first team, and winner of the Colorado Cup sophomore year culminated to his stamina and character in balancing his vigorous schedule.
"I just really like what I do and I can't imagine life any other way. Sports are fun and great for you and everyone should do them, as long as you can keep up in school because that's important too," Thorpe said.
About the Contributor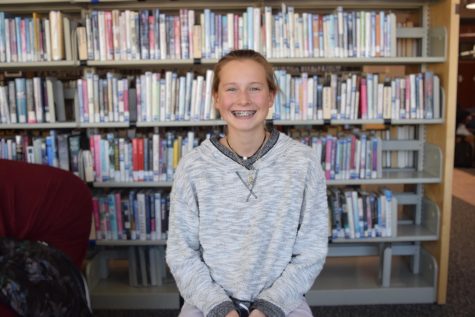 Stefani Wojcik, Staff Writer
Stefani is a sophomore at Aspen High School and this is her first year as a Staff Writer for the Skier Scribbler. She hopes to continue writing for the...