AHS club picks up trash to sponsor Guatemalan student
Trash that Aspen High School students are collecting this spring from underneath ski lifts and on the side of area roads will help support the education of a Guatemalan teenager.
When the snow melts in spring, trash that was previously hidden suddenly appears in large amounts. Over two weekends in April and May, Aspen High School's Guatemala Literacy Club sponsored a fundraiser where its members picked up litter from under the ski lifts and on Independence Pass.
The Guatemala Literacy Club is associated with the Cooperation for Education, a nonprofit agency that provides scholarships and works to break the cycle of poverty in Guatemala. The club at Aspen High School raises money to fund the education of a young Guatemalan girl, 17-year-old Jossoline. The club's goal is to pay for her education through her high school graduation, providing an opportunity many young women in Guatemala don't have. In Guatemala, school is free for six years, but to continue school, families must pay anywhere from $600-$1,200 a year. By graduating from 12th grade, Jossoline will be able to earn enough money to support a family of four, according to the Cooperation for Education. The club also wanted to raise money for Jossoline's education while benefiting the Aspen-area landscape through the trash clean up.
Eloise Clark brought the GLC to AHS three years ago when she was a freshman. However, the project started long before that. Clark visited Guatemala with her family when she was just 11, where she met Jossoline and other children. She was inspired by their stories and wanted to help them get an education.
"We especially focus on women because they become advocates for education in their community, which is a really big deal," Clark said
Jossoline will graduate in 2020, the same year as Clark and some of the other members of the club. She is planning on becoming a teacher when she graduates and the club hopes she will become a leader in her community and encourage more people to be inspired to get an education.
Olivia Burkley, an active member of the GLC, said she believes the club is beneficial to Aspen and the students in Guatemala.
"We are trying to make a difference outside of Aspen while helping the town," Burkley said. "We want to help break the cycle of poverty in Guatemala through education in a sustainable way."
In 2014, the club sponsored a similar fundraising initiative while working together with Aspen Skiing Co. by picking up trash in the city's public spaces and the ski mountains. For every pound the club collected, they earned five cents. The group also found an engagement ring during the cleanup and received a donation for finding it, eventually earning $2,000 for the initiative.
This year sponsors donated directly to the club. SkiCo, various local businesses and members of the community donated to their cause. The club's goal was to raise $950 for Jossoline's education this year, and they are only $135 away from that goal.
"In addition to our passion for education in Guatemala, we believe a defining aspect of our community is its pristine landscapes and clean public areas. Now more than ever, taking care of our environment is crucial to protecting our ecosystem and most importantly our winters." Clark said.
    To donate to the Guatemala Literacy Club, visit https://fundly.com/literacy-club#.
Published first at the Aspen Daily News
About the Contributor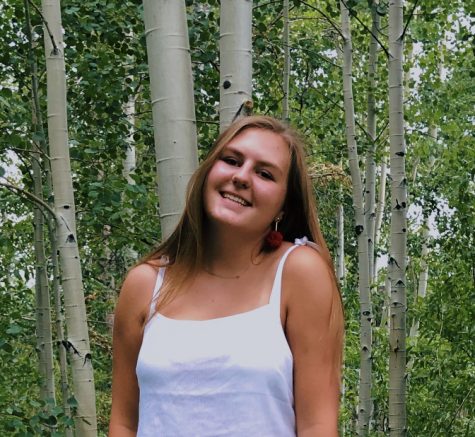 Tessa Guthrie, Editor-in-chief
Tessa Guthrie is a senior at AHS. She is currently one of the Editors-in-Chief. This is her fourth year writing for the Skier Scribbler. She loves to ski,...