A Sparkling Soiree
This year for Aspen's annual homecoming dance, Student Senate opted for a shift in location, choosing Scarlett's instead of Bumps. Scarlett's, an elegant lounge and restaurant area in downtown Aspen, hosted the dance and displayed this year's homecoming theme of "sparkle".
AHS students and Student Senate worked diligently to accomplish the task of having the dance at a location separate from the high school. The Sophomore treasure of Student Senate, Grace Peterson, described the planning of the dance as difficult to plan.
"It was kinda last minute honestly because we were trying to lock down a venue and no one would get back to us," Peterson said.
An effort was put in on finding a venue to host the homecoming dance, and Student Senate was able to get a definitive plan together with the help of Olivia Regan, a senior at AHS. Regan had connections through her dad to Scarlett's and was able to negotiate renting the place out for a night. Along with obtaining the venue, Regan DJ'd at the dance.
"I tried to find a place where students would have a good time," Regan said.
Unlike traditional high schools, AHS does not have their homecoming dance at the high school, and Regan and the senate worked to maintain this tradition. Regan and the senate feared that the turnout would be poor if students were informed that the dance would be at the high school, as students would prefer the dance at a separate location.
"I felt like they wouldn't like having it at the high school because we are at school all the time, and for it to be at a separate location feels a little more special and different which is exciting and fun," Regan said.
Grace Peterson also believed that the dance would work out better at an off-campus location.
"I think it would've been kind of a shock to them [the student body] if it was going to be on campus," Peterson said.
All of the planning and work of Regan and the senate made the sparkled theme dance possible, and the dance took place at Scarlett's. The efforts of Regan and the Student Senate led to a large turnout. Last year's homecoming dance had a turnout of 450 students, and according to teachers, this year's dance had approximately 440 students.
Tameira Wilson, the leader of Student Senate, was proud of all that the students had accomplished.
"I'm really proud of kids for getting it together and I'm really proud of them for seeking out resources here in the building, I think that having a student DJ that understands young people makes a huge difference, so I think there were some really good strategic choices that made it a success and I'm really proud," Wilson said.
The dance was a sparkling success thanks to the work of the senate and Regan.
Leave a Comment
About the Contributor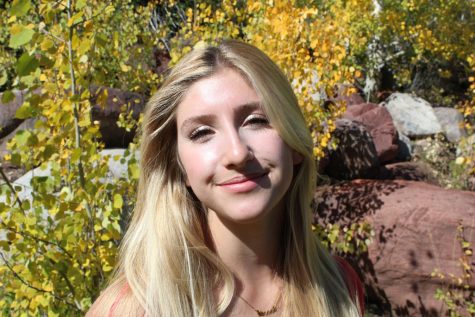 Hannah Smith, Editor-In-Chief
Hannah Smith is a senior at AHS and an Editor-In-Chief of the Skier Scribbler. This is her third year writing for the paper. In her free time, Hannah loves...