Only in New York!
New York City is known as the city that never sleeps, and as a result business is always awake in NYC! At AHS, an annual Reese Henry business trip is held in New York to provide students with a vast amount of learning and experiential opportunities correlated with business. Students get to experience and see different businesses and the contrasting cultures within those businesses. What many may not know about are the purposes and history behind this entailing business trip.
The Reese Henry and Company is a local accounting firm created in 1964, and the founder of this company, Reese Henry, was a large supporter of the business and accounting program at AHS. The mission of Reese Henry was to give back to the community, and one way he sought to do so was by offering cogent scholarships to senior students who wanted to pursue a university course that would aid in a career in accounting. Eventually, this scholarship was transformed to assist 5 to 10 dedicated students intrigued by business.
The CEO and managing partner of the Reese Henry company, Peter Van Domelen, as well as business teacher, Dave Connoroe, formulated the idea of a trip to New York City. AHS obtained many affiliations with businesses in NYC, and the first Reese Henry trip was launched in 2010 with the help of managers, parents, and businessmen.
Today, the trip is led by business teachers Steve Sand and Sheri Smith at AHS. The trip was filled with many activities and learning opportunities such as visiting businesses and learning about their functions and corporation, as well as touring NYC to experience what life is like in a busy city.
"We visited several businesses to learn about their industry, and what differentiates their specific business. Most of the businesses also had some young associates at the meeting, and they loved answering questions from our students about college, major choices, internships, what it's like to live and work in New York City, etc. We visited several big banks, a private equity firm, a large real estate development firm, the headquarters of a retail business, and the New York Stock Exchange floor during a trading session," Sand said. "We also always leave time for fun things, like a broadway show (this year was Beetlejuice), touring different parts of Manhattan, and a guided tour of the 9/11 Memorial and Museum. I believe this impactful tour is something everyone should experience."
New York is a change of pace for both the students and teachers, and students have the chance to gain an understanding of the different perspectives of NYC.
"They get to see and experience firsthand different businesses and their different cultures. They also get to experience what it would be like to live and work in a bustling city like New York. The business and networking is great, and of course, they get to have some fun, and create new friendships," Sand said.
Storey Balko, a junior at AHS and staff writer for The Skier Scribbler, was one of the students who attend the Reese Henry trip.
"Personally, I had a lot of fun on the trip. I had never been to New York, so it was very cool seeing it for the first time. Also, I was able to learn a lot about business, particularly finance, through this experience," Balko said.
The 2019 Reese Henry trip was a success, and due to the efforts of Henry, Connoroe, and other involved individuals, this trip will continue to be successful.
"The trip was amazing, as usual," Sand said.
Leave a Comment
About the Contributor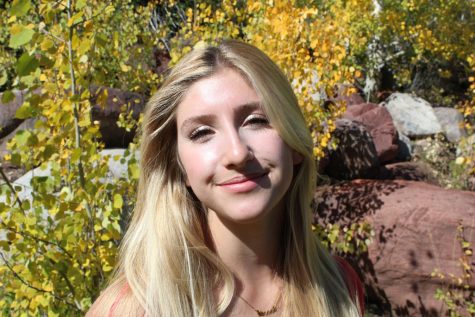 Hannah Smith, Editor-In-Chief
Hannah Smith is a senior at AHS and an Editor-In-Chief of the Skier Scribbler. This is her third year writing for the paper. In her free time, Hannah loves...