Power to Pakistan
A student-lead club based at Aspen High School successfully raised enough money to educate seven girls in Pakistan this year using fundraiser money from a banquet last month. The fundraiser was hosted at Home Team Restaurant at the Inn at Aspen.
Power to Pakistan is an AHS student-lead club whose sole purpose is raising money for the education of young Pakistani girls with limited access. The club promotes the Moqah Foundation, an organization located in Pakistan that uses funds to build schools and provide tuition for those who can't afford it. Raising awareness about the gravity of the issue allows the club to collect enough capital to support as many women in Pakistan and the middle east as possible.
Club President, Macy Hopkinson, founded the club in 2017 and is passionate about the problem at hand.
"Pakistan is described as the world's worst-performing country in education where girls have far fewer opportunities than boys do. Over 25 million school-aged children are not in school," Hopkinson said.
Last month, the Power to Pakistan initiative hosted a showing of the film Girl Rising, a film that effectively outlines the lives of nine girls living in third-world countries who have faced severe injustices and who continue to strive for women's educational rights. The film was shown to expose the horrors that women in Pakistan face each day and thus encouraging viewers to donate.
"I was surprised by the large turnout that we had. I was excited that so many people decided to come to support the cause. I hope the movie impacted them as much as it has impacted me," Hopkinson said.
Several girls in Pakistan are forced into an arranged marriage at a young age and are tasked with giving birth usually before they reach the age of 18. Women in Pakistan are viewed as burdens and are only valued in their ability to possibly give birth to a male. Childbirth is the number one cause of death for girls aged 15 to 19.
"When girls go to school and are not forced into this vicious cycle, they get married later, stay healthier, have fewer and healthier children, and most of all have the skills to fulfill their dreams," Hopkinson said.
Over 70 people attended the Power to Pakistan fundraiser banquet, and the club was able to raise over $1,400. This sum is enough money to educate seven girls in Pakistan this year.
"This cause is so special because educating one girl can uplift an entire community. Educating more girls can change the world," Hopkinson said. "I believe that we have the power to educate enough girls to start a powerful and positive revolution."
Leave a Comment
About the Contributor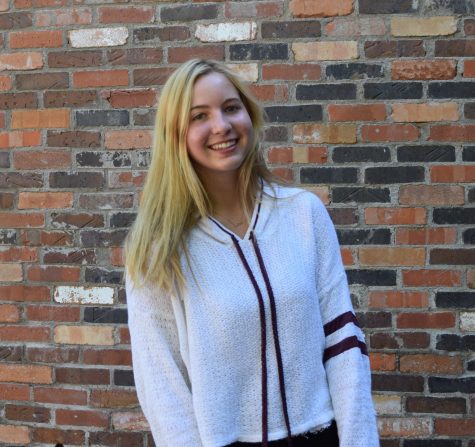 Kaelyn Kroeger, Writing Editor
Kaelyn Kroeger is a junior at AHS and a Staff Writer for the Skier Scribbler. This is her third year as a journalist and at AHS and recently moved to Aspen...