AHS students help fight Australian wildfires
Although Aspen is more than 8,000 miles away from Australia, students at AHS are finding creative ways to get involved with wildfire relief. Across the globe, many have heard about the Australian wildfires, whether it is through social media, news channels, or even being in the affected areas. Various organizations have reached out to the millions of people to help their cause. Such groups are attempting to help and rescue the thousands of people and animals trapped in the fires.
In Australia for the past three years, severe drought is not an unfamiliar occurrence. From 2017 to 2019 parts of the country experienced record-low rainfall, as little as 10.9 inches per year in some places. Along with this, extremely high temperatures left the country more vulnerable to fires. In September 2019, fires started and by December the fires were in full effect, devastating large parts of the country. Around 14.8 million acres of land have been burned. Along with this, it is estimated that half a billion animals have been affected by the fires.
At AHS, a few students have helped or noticed others donating or spreading the word about the fires. A common way information is being spread is through social media.
Lupita Oritz, a junior at AHS, watches the news every day to stay informed and believes knowledge is just as powerful as donations.
"Our planet is suffering greatly and Australia is just one example of millions. We need to come together as people to help one another and our mother earth. From what I have observed social media is doing a fantastic job of spreading the word. Even kids here at Aspen High are reposting images of the atrocious fires and the impacts on wildlife. The more people know and understand about the fires in Australia, the more we can all help to prevent similar issues," Ortiz explained.
AHS sophomore, Riley Rushing, wants to get the voices of Gen-Z out into the world about the potential solutions to the fires. Rushing thinks teen voices are just as valuable as anyone.
"Honestly, I think that most adults look down on teenagers. They don't think that we are as educated as them and they don't think that what we are saying is correct, but we are the generation that is going to be suffering through everything if this keeps up. So I think that others should start listening to us teens because we are the ones who know a lot about what is going on. I have done a lot of research on these fires and I learned that causes of the fires and I have learned about the ways that we could control this problem," Rushing said.
Karen Galvan who is in her last year at AHS has donated to the fires and thinks help from everyone will be needed to make a dent in this environmental crisis.
"I would hope that my money has gone to helping pay for flights for different firefighters coming into Australia. I think it's extremely important to have worldwide help because Australia is suffering immensely and can't do it alone," Galvan stated.
Leave a Comment
About the Contributor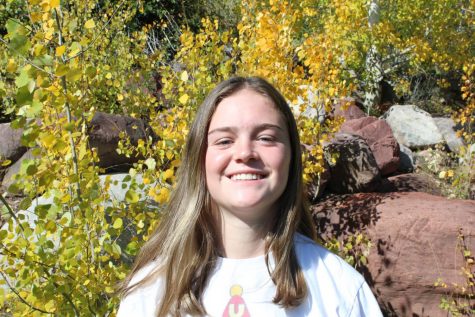 Jenny Ellis, Editor-In-Chief
Jenny Ellis is a Senior at AHS. She is in her third year as a writer for the Skier Scribbler and first year as an EIC. She likes to ski, play soccer, skateboard,...