Press Release: Guys and Dolls
Aspen High School Presents Guys and Dolls
ASPEN, COLORADO: Aspen High School's Theatre Department will be performing Guys and Dolls, taking place at the Aspen District Theater on March 12th-15th (times posted below). This production is an oddball romantic comedy set in New York City in the '30s, following the endeavors of a gambler in need of cash, a fiancée in need of marriage, and many more twists and turns that come together to make Guys and Dolls.
"Guys and Dolls" PERFORMANCE SCHEDULE, Aspen District Theater:
Thursday, March 12th, 6 pm
Friday, March 13th, 10 am (Special School Matinee for groups of 10 or more)
Friday, March 13th, 6 pm
Saturday, March 14th, 6 pm
Sunday, March 15th, 2 pm
Tickets $10 Students, $15 adults
Aspen High School Theater Director Logan Carter directs, with vocal direction by Erica Nottingham and choreography by Marisa Post. The cast consists of 26 Aspen High & Middle school students (7-12th grade), the orchestra pit under Conductor Andy Farmer consists of the AHS high school band, and both will be supported by a tech crew of 12 AHS students behind the scenes.
A beloved musical comedy, Guys and Dolls ran for 1,200 performances when it opened on Broadway in 1950. It won a bevy of awards, including Tony Awards, Drama Desks, and Oliviers, along with delighting many musical viewers across the US. This award-winning classic is known for gambling with luck and love under the bright lights of Broadway. Senior Aidan Krause is excited to be starring in such a timeless musical.
"It really shows a lot about what musical theater is and it kind of the definition of musical theatre," Krause commented.
Gambler, Nathan Detroit, played by senior Aidan Krause, tries to find the cash to set up the biggest craps game in town. Detroit turns to fellow gambler Sky Masterson, played by Haver Muss-Nichols, for the dough and ends up chasing the straight-laced missionary, Sarah Brown, as a result. Sarah Brown is played by Emma Boucher on March 12th and 14th and Adriana Cipponeri on the 13th and the 15th. Meanwhile, Nathan's girlfriend and nightclub performer, Adelaide, laments that they've been engaged for fourteen years. Guys and Dolls takes viewers from the heart of Times Square to the cafes of Havana, Cuba, and even into the sewers of New York City, but eventually, everyone ends up right where they belong.
"It's been a work in progress for months, and I think our work is really going to show. [Guys and Dolls] is going to be a really enjoyable experience," Krause said.
About the Writer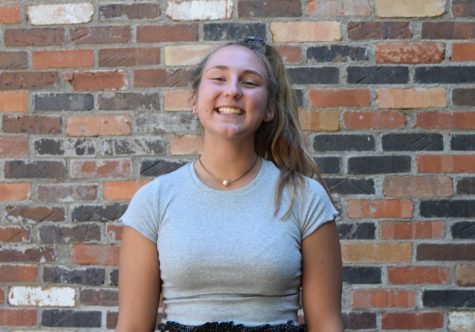 Emily Kinney, Editor-in-chief
Emily is in her senior year at Aspen High School and has spent three years writing for the Skier Scribbler. This year she is excited to be part of the...