Mr. Reed, self-proclaimed anti-coffiest, seeks to eliminate all coffee at AHS
SATIRE—In a recent staff meeting, AHS's new coffee shop was briefly introduced, leaving teachers thrilled about the idea of getting their morning cup of joe at school. However, not everyone was entirely delighted by the idea. AHS philosophy and history teacher, Mr. Screed, was less than enthusiastic about the idea of having coffee supplied at school. Many took this as a bitter joke, but this was where the anti-coffeeist operations sparked into action.
"Coffee is pure poison, acidic, diuretic and dehydrating. Those who consume tea are intellectually superior, and I despise the thought of consuming the inferior beverage, coffee, not only in general but on a daily basis. It makes me sick to think about serving coffee as opposed to tea. Absolutely sick," remarked Reed at the AHS staff meeting.
Later that week, the first anti- coffiest ambush was reported by AHS business teacher and avid coffee drinker, Sandman.
" I was walking down the hallway on Tuesday morning to get some copies. I had just bought a fresh cup of coffee from the new coffee shop, and was just walking about when I heard a faint echo of… well, I think it was throat singing or maybe even yodeling. Then the noise went silent, and I turned around to find Mr. Screed right behind me with the most neutral expression, and then bam, he swiped my coffee and darted off," recounted Sand.
This was the first of many surprising encounters reported by AHS staff. Just two days later, AHS literature teacher, Mc. Beth Clark noted that the coffee she had left in her room was stolen. A tea bag was left behind, leaving a clue of Mr.Screed's visit to Clark's classroom.
Over the next few weeks, the coffee heist became more frequent. AHS's coffee shop is currently close to the point of being out of business due to all of the anti coffee attacks.AHS teachers are drinking less coffee inside of school out of fear of their coffee being stolen.
AHS chemistry teacher, Brent Magnesium, is an avid coffee drinker and has become wrapped up within the troublesome anti-coffiest.
"I actually drink tea and coffee, but I rarely bring coffee to school anymore. You know it's just crazy, every single time I bring a cup to my morning classes they disappear. At first, I thought it was funny, but now I, along with many other teachers have had it with Mr. Screed's tea obsession. Please just let us have our coffee!" Maiolo said.
There is no clear answer as to when Mr.Screed will stop his alleged rampage, but the administration has started investigating. Nothing major has been found as of this point, and the investigators are still unaware of the whereabouts of all of the stolen coffees. However, there is a popular theory floating around the high school about what exactly he plans to do with all of the stolen coffee.
Many speculate that Mr.Reed is giving the coffee to his llama acquaintances at the Aspen Market to fuel up their aggression, and once their aggression has peaked, he will use them to go to war against coffee drinkers. This may sound ridiculous to several people, but many AHS teachers know that this would not be out of character for the anti-coffiest.
"I really believe that Mr.Reed is willing to eliminate all coffee at AHS, and that rumor spreading is quite ridiculous, but now I am starting to think that something like that could actually happen. I encourage all AHS staff members to guard their coffee and prepare for anything. None of us know what Mr.Reed is really capable of, so just watch out!" warned Clark.
Leave a Comment
About the Contributor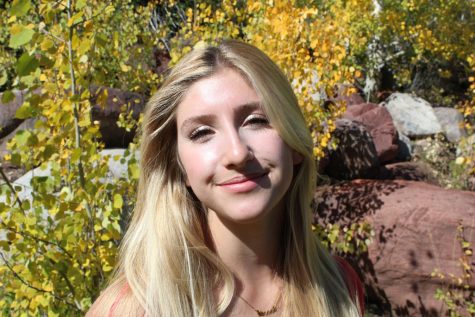 Hannah Smith, Editor-In-Chief
Hannah Smith is a senior at AHS and an Editor-In-Chief of the Skier Scribbler. This is her third year writing for the paper. In her free time, Hannah loves...