Screed Gets Record Deal
SATIRE- Readers may know the catchy tune by Billie Eilish, "Bad Guy," as it won countless Grammy's during the summer of 2019. However, some have argued that an up-and-coming artist, Screed, is threatening to give this song a new and even better legacy.
Screed, a history teacher by day, got his big break on the November 6th broadcast of Skier TV. When asked by the host, Susman, to perform Mongolian Throat Yodelling, Screed shocked the staff and students of AHS with the sheer impressiveness of this hidden talent. His yodeling performance went viral. Student Will Getabiginheritance's father heard the clip, and as CEO of a famous record label, was able to sign Screed for a 2-year contract, allowing Screed to be paid entirely in rats and different types of tea. The contract allows for Screed to still spend time investigating history and running the strategy club, as long as he "produces some bangers."
One of these required "bangers" in progress is a cover of "Bad Guy." Screed spoke on how he chose this song for a Mongolian-style remake.
"I usually listen to 80s techno music in my free time, but someone else already throat yodeled to that- I would highly recommend you give it a listen. I started looking for inspiration, and where better to find that then in high schoolers who think they're unique because they listen to Billie Eilish. "Bad Guy" had such a good beat; I knew I could yodel some "sick" bars over it," Screed said.
The remake was a hit and quickly rose to the top of the Billboard 100. Music critics across the globe loved the fresh sound yodeling brought to the music realm while keeping it hip and depressed. Among these critics was the music group Old Peasants.
"We aren't like other music groups\; we listen to things like Wanye Kest and Big Vzi Uert. Because of our extensive knowledge of music, we are comfortable in saying that Screed's single evokes emotions, unlike anything we have ever felt before. And, he's going platinum with no features?! Crazy…," Old Peasants commented.
CEO Getabiginheritance hopes that Screed will be able to tour and perform this platinum single, as it is outlined in his contract.
"We are having a hard time developing costumes for stage performances, as Screed seems to prefer khakis to J Lo's Superbowl outfit, but we are working on it. He also wants to train all audiences to respond "peachy" when asked how they're feeling. While that sounds challenging, we are willing to do whatever we can to get Screed on tour," Getabiginheritance said.
Even with all this going on, Screed is staying humble to his roots and looking towards the future.
"My goal for the future is to complete world domination, but if that gets too hard, maybe I'll cover TaySwizzle instead," Screed commented.
*The Skier Scribbler reached out to Billie Ellish for a comment and was informed Ellish has gone into hiding for fear of "Screed's remaking powers being too great.*
About the Writer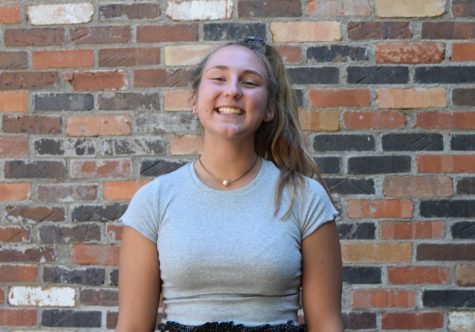 Emily Kinney, Editor-in-chief
Emily is in her senior year at Aspen High School and has spent three years writing for the Skier Scribbler. This year she is excited to be part of the...