AHS's Spring Musical This Year is the Sweetest yet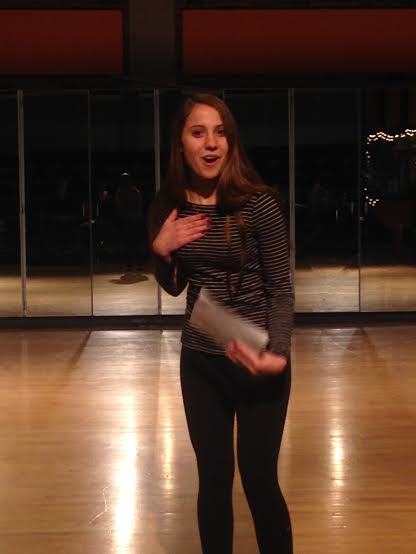 December 9 and 10, the Black Box Theatre boomed with potential stars of this years spring musical, Willy Wonka, directed by Logan Carter.
Roald Dahl's timeless story of the world-famous candy creator and his quest to find the next owner to his monstrous candy factory comes to life in Charlie and the Chocolate Factory. The show follows this puzzling candy manufacturer Willy Wonka as he puts on a contest by hiding five golden tickets in five of his candy bars all across the world. The five lucky winners to find the tickets will receive an opportunity to tour the Wonka factory. The last visitor standing will win a lifetime supply of candy as well as a special additional prize. Four of the five children are unbearable brats whereas the last one is a charming boy named Charlie Bucket who takes the tour in the company of his grandfather. The children must learn to follow Mr. Wonka's rules in the factory-or suffer the consequences.
"We chose Willy Wonka because the last couple years the shows that Lara, the previous theatre teacher as AHS, chose were very out of the box and not known, so as a first year teacher, I'm hoping to build the program and grow the interest in theatre here by choosing a show that both adults and kids know very well. Everybody loves both the original movie and the Johnny Depp version," Carter said.
The director of this musical, Carter, has been the theatre teacher at Aspen High School for just about four months now. Prior to working at AHS, Carter runs Sol Theatre Company, which is a Carbondale based, non-profit youth theatre company that she founded in March 2012. She also directed and taught with Jayne Gottlieb Productions, taught for Theatre Aspen, and taught for the Thunder River Theatre Company. Carter teaches three middle school theatre classes and three high school theatre classes, as well as directs the musical and runs the improv club.
The audition process was quick and simple. Students signed up for any twenty minute slot between 3:40-5:40pm on either date, with up to nine students per time slot. Auditions consisted of learning a short section of a song from the show, lead by Music Director, Sue Wasienko, as well as performing a short monologue from the show if they would like to be considered for a lead character.
Students of all grade levels, including senior Mo Roach, are ecstatic about this years musical and are positive it's going to be the best yet.
"This years musical is all about having fun. I'm not sweating too much about the auditions. I only have one year left so when the musical was announced, I thought, might as well send it," Roach said.
The spring musicals have always been hits, but with the performance being Willy Wonka, the 2014 musical is sure to be a hit.
"I think it's really a show that will attract the community as well as provide opportunities for lots and lots of parts. There are twenty-two leads and a huge ensample: oompa loompas, children, squirrels, etc.," Carter said.
The performance dates are March 7th-March 9th in the Aspen District Theatre. Tickets are ten dollars for students and fifteen dollars for adults. Aspen High School's performance of Willy Wonka is sure to be sweet, so don't miss out.
Leave a Comment