What to do in quarantine…
This is a tough time for high schoolers, having to stay in your house with your family ALL day. If you are a fellow procrastinator (like myself) and you are bored, but don't want to be productive in any way shape or form, this list is for you! I have put together the top ten things to help you pass your time.
Build with Legos
This may seem like a childish activity, but once you start you can't stop. If you are up for a challenge you could always take it to the next level and order any Ikea item then needs to be assembled. WARNING: This project may take up all your time, so make sure you find time to see what homework you can put off and continue building that Swedish furniture.
Read a family member's favorite book
While you spend every day with your family, why not see which story has a special meaning for them. You could fall in love with a new genre or author. If you aren't a big fan of reading or you are very busy, audible is a great way to still listen to the story and clean the dishes.
Binge watch a TV series
If you have Netflix there are countless options of different series in each genre that you might like. You and your friends want to watch it together? USE NETFLIX PARTY. If you don't have any streaming service just do the free trial and don't stop watching until you finish all 15 seasons of Grey's Anatomy. Good Luck!
Organize your room
This can be more specific depending on how much effort you are willing to put in. Starting with your closet makes it look nice and pretty. Along with general organizing, you can clean your room too. You can also move every piece of furniture to mix things up.
Listen to new music
Apple Music has over 45 million songs! New music is always coming out, so sit back and listen for hours on end. Even Make a playlist depending on your mood. This is a good way to pass your time and enjoy every minute of it.
Build a toilet paper fort
Before I explain why this is so fun (pretty self-explanatory), I do not recommend wasting any toilet paper because in recent weeks their value has skyrocketed. Build anything with toilet paper and let your imagination flow. You could find a hidden talent of architecture and have a new passion.
Become TikTok famous
TikTok is one of the hottest apps this year and a lot of people have become famous. Learn some dances and post excessively and you'll end up on someones For You page. Just don't let the new fame get to your head.
Scroll thought TikTok
This will take up the majority if not the entire day. Two hours in you say to yourself, "Okay one more video," but you know there will be a lot more videos.
Attain Nirvana
This may take a little longer than temporary quarantine, but finding peace in yourself could make you a better person.
Be Grateful
Right when you wake up write down three different things you are thankful for. Even though things are tough right now, you still have a lot to be grateful for. Stay inside and have some fun!
About the Writer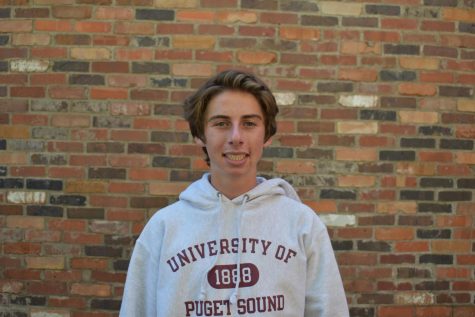 Brenon Reed, Staff Writer
Brenon Reed is a sophomore at Aspen High School, this is his first year as a staff writer for the Skier Scribbler. In his free time, Brenon enjoys to...