Celebrities are joining Tik Tok, but is it ruining the app
TikTok is a social media app where approximately 800 million users create, watch, and stream content. TikTok is a place where everyday people are free to make their own 15 to 60-second clips with fun sounds and effects, with a chance of going viral on the "For You Page" (FYP). But as the app has grown in popularity, so has it's user base, with large creators and celebrities taking over the app with their content.
Groups of TikTok creators with millions of fans such as "The Hype House" and the "Sway House" have emerged in the recent months of 2020. The goal of these groups is to gain as much money and status on the app as possible. By combining popular creators like Charli Damelio and Lil Huddy together, they are able to reach even more people, growing their fan base dramatically. On top of this, more and more actors, models, and celebrities of all kinds have joined. These celebs, like Madison Beer or Noah Centineo, have amassed millions and millions of followers overnight. Using their faces and previously established fame they are able to get a lot of recognition on the app. Their videos easily go viral, taking over the FYP.
The new wave of videos and famous creators could change the very purpose of this social media platform. This "take over" of the app has left smaller creators questioning the future of content on TikTok.
Morgan Ding, a sophomore at AHS and an avid TikTok user, worries about all the famous people joining in.
"I just think that this app used to be super fun and diverse. I could scroll through my for you page and see normal people from around the world making funny and original clips. But now, all I see are celebrity's dancing videos or big creators promoting their merch or starting drama. The app has definitely started to change and I'm not a fan," Ding commented.
Along with the unwanted content the big names bring, TikTok can start to feel like any old app that isn't unique or exciting to use. Elijah Goldman, who uses the app almost every day, has started to see subtle changes in it.
"TikTok is meant to be different from other social media apps, like Youtube, because everyone is supposed to have an equal chance to go viral and share their videos. Whereas Youtube, for example, people use to go watch already popular creators. But as more celebrities, funny or not, join [TikTok], it makes it more like other apps, which can be disappointing," Goldman said.
Social media of any kind is bound to bring hate, unrealistic standards, and ads as it grows. But these already negative parts can be fueled by celebrities and famous creators. Ashli Slesinger-Hall is a frequent TikTok user and has noticed this issue.
"I do agree that celebrities always try to look their best for their followers or out in public, but I think the constant stream of perfect-looking people with huge amounts of fans can be hard for regular people. Famous people also like to promote their music or sponsors on the app, which I'm really not trying to see," Slesinger-Hall stated.
Leave a Comment
About the Contributor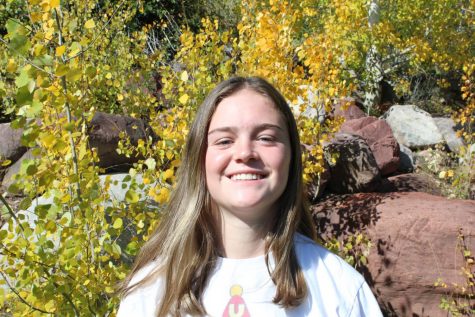 Jenny Ellis, Editor-In-Chief
Jenny Ellis is a Senior at AHS. She is in her third year as a writer for the Skier Scribbler and first year as an EIC. She likes to ski, play soccer, skateboard,...