Summer of corona: activities in Aspen
In Aspen, summer is a popular time of year for tourists and locals alike to enjoy the warm weather, outdoor activities, and the beautiful scenery our town has to offer. Unfortunately, a health pandemic can seemingly press pause on any fun summer activities. Luckily, this assumption is wrong. In fact, Aspen houses the perfect environment for a somewhat normal summer when people act responsibly and carefully.
In small rural communities like Aspen, the number of people compared to the amount of outdoor space is excellent. With many trails, rivers, and parks to choose from, people are able to get outside still and enjoy their summer while preventing the spread of COVID-19. Obviously, it is still important to practice social distancing while doing these activities, or the amount of space we can enjoy may become limited to our homes again.
Here are five things to do to keep one's self entertained responsibly throughout the gorgeous summer months in Aspen:
Paddle Board or float up at the North Star Preserve
Cruising up or down the still waters at North Star is a great activity to do with a few friends or even alone. The calm and cold waters are a perfect place to cool off on hot days. The scenery surrounding the river provides an opportunity to look or listen to native animals. Easy access allows for a non-complicated quick half-day trip. Make sure to bring separate cars, and stay 6 feet apart while boarding or floating.
Hike any of the surrounding trails in town
In total, there are 30 moderate trails in the Aspen area. These trails range from easy 45 minute hikes to multi-day backpacking trips. Smuggler, Hunter Creek, Ute Trail, Sunnyside, and Red Butte are just a few trails that won't take too long to hike. Grab a couple of friends and some face masks and get in some exercise adventuring up these trails. If you are looking for a longer or more strenuous trail to hike, try the Four Pass Loop, Aspen to Crested Butte, or Capitol Creek Trail. Be safe and research before you decide to explore any of these hikes.
Mountain bike the Rim Trail in Snowmass or road bike up to Ashcroft
This trail, located in Snowmass Village, offers a mountain biking loop for anyone interested. The terrain isn't impossibly difficult and can be biked by amateurs. It is a fun day experience to do alone or with pals. The trail features uphill parts to get in your exercise and some downhill sections to speed down and have fun. Make sure to bring a helmet and an appropriate bike. If mountain biking isn't your thing, you can road bike up to the Ashcroft ghost town near the hospital. This ride has a steady incline on the way up and a leisurely cruise on the way back down. The road isn't very busy, so you might just have it to yourself. Don't forget water and snacks.
Have a picnic or play a game at a local park
From 'Pocket Parks' to big grassy areas, Aspen has over 25 parks to choose from. Sit down at Wagner, Smuggler, the Music Tent, or the Rio Grande park for some fun with friends. Pack some food, drinks, and blankets to sit on if you want a more relaxed hangout time with your friends. However, if you are looking to play some games, bring a Spike Ball net, volleyball or a soccer ball to run around with. The parks can be enjoyed all throughout the day, each time of the day offering a different experience. Come in the morning if you want a quiet and empty place to enjoy. Midday there is more activity, and the sun is hot, so bring some sunscreen. In the evenings, the sunset can create a beautiful backdrop to your hang out, but make sure to pack up before the sun goes down.
Car camp with friends in a designated campsite
Car camping can be a fun way to enjoy the experience of camping without the hassle of setting up all your gear or hiking five miles. It is a great way to bond with friends and spend the night in a beautiful place. In our valley, there are plenty of awesome spots to go such as Sopris Creek Road, Ruedi Reservoir, and the Independence Pass sites. These places feature sites with bathrooms to sites where you can't see anyone else. But, camping is popular, so make sure to get there early for a good spot. Make sure to be safe and let someone know where you are going.
Leave a Comment
About the Photographer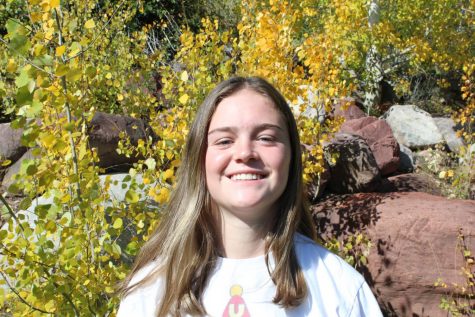 Jenny Ellis, Editor-In-Chief
Jenny Ellis is a Senior at AHS. She is in her third year as a writer for the Skier Scribbler and first year as an EIC. She likes to ski, play soccer, skateboard,...