Top 10 albums to listen to
Quarantining is a necessity, but is very boring for every student out there. Way too much free time is very nice until you can't do anything, ever. A very simple and entertaining way to get through these times is to listen to music. If you typically only listen to one genre, experiment by finding a new artist or album and listen to their work. Music can definitely help during these dire times, which is why I compiled the top ten albums you should listen to during this pandemic.
Circles by Mac Miller
This 14 song album has a song for every mood, from the more upbeat Blue world to the mellow Good News. The variety of each song in this album is one of the reasons I like it so much. Circles, is a play on Mac Miller's previous album, Swimming, as both titles put together mean "Swimming in Circles".
Currents by Tame Impala
This "psychedelic rock" album is an assortment of mellow rock, which includes The Less I Know the Better and The Moment. Rap music is the main category of music I listen to, but the different types of music in this album are still very entertaining, and I highly recommend checking it out.
good kid, m.A.A.d city by Kendrick Lamar
Kendrick Lamar is arguably the best rapper to walk this earth. His sophomore album has 13 tracks that each tell a detailed story about Lamar's life in Compton, California. Most rap music today is about money and drugs, which is very repetitive. However, this album is a story with lots of details explaining Lamar's life and his reality living in Compton.
Blonde by Frank Ocean
Blonde is one of the best albums of 2016. This record has 17 songs which each sound unique and are an example of an artist's true talent. Frank Ocean is an amazing artist and expresses it in this album. You can feel his music as you listen to it, and it's incredible.
Axis: Bold as Love by The Jimi Hendrix Experience
Although this album has been out over three times my existence on earth, the great Jimi Hendrix shows off his incredible guitar skills in every song. Some of my personal favorites are Bold as Love, Little Wing and, Wait until Tomorrow. Even if you don't like rock and roll, after listening to this album, you will have a new level of respect for Jimi Hendrix, which makes this so special.
Heaven or Hell by Don Toliver
Don Toliver's second album has a lot of hits which are very catchy mostly because the sound of Toilver's voice is so unique, you can't mistake it for anyone else. If you enjoyed Travis Scott's Can't Say ,then you would like this entire album. I like Toliver's creativity with his lyrics on top of his vocals.
A Love Letter To You 4 by Trippie Redd
Any of the four A Love Letter to You albums have great tracks. Some of the best songs from his most recent album, A Love Letter To You 4, include Death featuring Dababy, The Grinch, and The Jungle Book. Out of all of his albums, this is a great one because Trippie Redd has found his voice and is expanding his creativity in his music which is why I like it so much.
Revenge of the Dreamers III by Dreamville and J. Cole
This Grammy-nominated album consists of 18 talent-packed songs. It is hard to believe the entire album was made in just ten days. Each song features a variety of different artists, producers, and singers/rappers. The amount of talent that is put into this album is truly a work of art and makes it so enjoyable to listen to.
JEFFERY by Young Thug
Young Thug has a very distinct voice with signature adlibs, which include "SLATT" and "Skrrrt Skrrt". This album will be considered a classic at some point because of Thug's unique sounds. Only four years after this album was released, it is already a classic\; the catchy song will be stuck in your head for days.
Coloring Book by Chance The Rapper
The Chicago rapper includes some of the biggest artists on this album: Kanye West, Justin Bieber, Young Thug, Lil Wayne, and even Anderson.Paak. This album has so many different types of songs, it can put you in any mood you want.
Leave a Comment
About the Contributor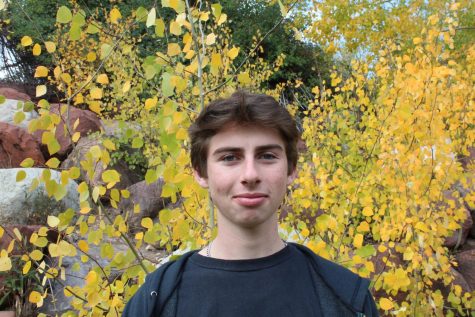 Brenon Reed, A&E Editor







Brenon is a senior at Aspen High School. This will be Brenon's third year writing for the Scribbler. During his free time, Brenon loves to...