Two hour break student activities
After two 75 minute classes in the morning, students are given a break to relax and get off screens. AHS administrators anticipated this desire and decided to add a break from 10:40 to 12:40 to give students a chance to reset and check on their mental health. With so much time on their hands, it can be difficult for some students to find productive ways to fill it. Whether it be catching up on school work, so one can go to sleep early, or going outside to play Spikeball, many students have a list of their favorite lunchtime activities. If students are feeling uninspired and don't know what to do with their time, here are some options.
Alice Collins, an AHS junior, enjoys connecting with her friends to keep the social aspect of her mental health flourishing.
"During the two hour lunch, I've been going out with friends. It's nice to have the extra time to spend with people since we don't have the social interaction that we normally would in regular school. Other than that, I've been using the extra time to work on art, as well as working out if I
have the motivation," Collins said.
Lupita Ortiz, an AHS senior, thinks finding a balance between relaxing and having a constructive success-based schedule for lunch is very important.
"I think it is important to get off our computers and phones during our two hour break. Although I also think it should be used to start and finish homework, I split up my time. I go on a run or walk my dog and then come home and work," Ortiz said.
An AHS senior, Maya Abraham, has a daily routine when it comes to lunch time, and although it is simplistic, it is enjoyable.
"I like to go hiking with my dog, go out to lunch with friends, catch up on homework, or relax." Abraham said.
Most people are comfortable and enjoy doing familiar things, but different ideas can spur fun new routines for students to mix it up. Here is a list of potential lunch activities: catch up on homework, meet up with friends, grab some food, meet a teacher, go on a short hike or run, play with pets, golf or play a sport, call a relative, go on an adventure, cook something creative at home, or even take a nap.
Leave a Comment
About the Contributor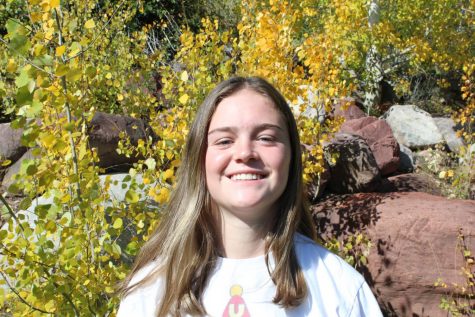 Jenny Ellis, Editor-In-Chief
Jenny Ellis is a Senior at AHS. She is in her third year as a writer for the Skier Scribbler and first year as an EIC. She likes to ski, play soccer, skateboard,...