Quarantine creates a bump for celebrities
The year 2020 tested relationships after a mandatory two-week lockdown in March. With celebrities' busy lives, they needed a break. This meant marriage for some couples, while for others, it meant starting a family.
Romee Strijd & Laurens van Leeuwen
Victoria's Secret model Romee Strijd (24 years- old) and Laurens van Leeuwen (30 years-old) are expecting their first child. They have been in a relationship for 10 years and while many fans were expecting them to get married over quarantine she announced on May 28 an emotional YouTube video, captioned, "WE'RE HAVING A BABY,"
This was exciting for the couple because Strijd was "diagnosed with [polycystic ovary syndrome]" two years ago "after not getting [her] period for seven years. I was devastated because being a mom and starting a family with Laurens van Leeuwen is my biggest dream," Strijd said. She was torn apart, knowing it would be nearly impossible to have a baby. But Strijd was determined as she researched more on polycystic ovary syndrome (PCOS). She began to adjust her diet and exercise regimen, among other forms of "natural healing" and proudly shared that it was effective.
"We're going to have another child real soon," the star announced, while Leeuwen joked in response, "A lot of quarantine babies are probably going to be born," and boy oh boy was he right.
Bindi Irwin & Chandler Powell
Just four months after putting a ring on it, Bindi Irwin(22 years-old) and her husband Chandler Powell (23years-old) are expecting their first child. Irwin announced on Instagram on Aug. 11.
"Baby Wildlife Warrior due 2021," the mom-to-be captioned the photo early Tuesday, which showed herself smiling alongside Powell, as they held a tiny Australia Zoo uniform fitted for the baby-on-the-way. "Chandler and I are proud to announce that we're expecting! It's an honor to share this special moment in our lives with you. Though I'm still in my first trimester, we really want you to be part of our journey from the beginning of this new life chapter," Irwin said.
She added, "Please let me know your best advice and send good vibes & prayers to our little sweetheart. Love & light."
Powell shared some sweet words of encouragement on his wife's post, writing, "You're going to be the best mother."
Katy Perry & Orlando Bloom
Singer Katy Perry (35 years-old) and actor Orlando Bloom (43 years-old) welcomed their baby Daisy Dove Bloom on August 26, 2020. The married couple shared a black-and-white picture of them holding Daisy's tiny hand. Only two days after giving birth, Katy Perry released her album "smile." Perry named one of her songs, Daisies. Perry revealed she was pregnant in the music video for her single Never Worn White earlier this year.
The couple expressed that having a baby during covid is an "emotional rollercoaster" and can be scary, so they were lucky.
On August 26, Orlando Bloom wrote on Instagram, "Communities around the world are still experiencing a shortage of healthcare workers, and every 11 seconds a pregnant woman or newborn dies, mostly from preventable causes. Since Covid-19, many more newborn lives are at risk because of a greater lack of access to water, soap, vaccines, and medicines that prevent diseases. As parents to a newborn, this breaks our hearts, as we empathize with struggling parents now more than ever," Bloom said
The couple set up a donation page to mark Daisy's birth, with the money going towards new mothers and their children.
Gigi Hadid & Zayn Malik
Ex-One Direction member Zayn Malik(27 years-old) and Gigi Hadid( 25 years-old) announced their pregnancy on "The Tonight Show with Jimmy Fallon" in April 2020."Obviously, you know, we wish we could've announced it on our own terms, but we're very excited and happy and grateful for everyone's well wishes and support," Hadid said.
Hadid said her impending bundle of joy was a bright side to social distancing amid the coronavirus pandemic. The couple welcomed a baby girl, 'Proud to call her mine,' The American model Gigi Hadid said. Malik announced on September 7, 2020, over Twitter that they welcomed their first child.
Malik shared a photo of him holding his daughter's hand with the caption "Our baby girl is here, healthy & beautiful," Malik said.
Gigi Hadid added, "The love I feel for this tiny human is beyond my understanding. Grateful to know her, proud to call her mine, & thankful for the life we will have together."
The couple did not showcase their pregnancy and have yet to announce the name, "Obviously, I think a lot of people are confused why I'm not sharing more, but, I'm pregnant through a pandemic," Hadid said, adding, "my pregnancy is not the most important thing going on in the world."
Chrissy Teigen & John Legend
Miscarriage is often not discussed but happens to many women, including celebrities. It is very powerful when people, such as Chrissy Teigen(age 34) and John Legend (age 41), share their stories. The two were expecting their third child. However, the announcement was changed to sorrowful news when Tiegen lost her baby boy after being recently hospitalized for bleeding issues.
"We are shocked and in the kind of deep pain you only hear about, the kind of pain we've never felt before," wrote Teigen, a model, cookbook author, and TV personality. "We were never able to stop the bleeding and give our baby the fluids he needed, despite bags and bags of blood transfusions. It just wasn't enough." Teigen said
Tegan suffered headaches during pregnancy so severe that she needed Botox shots to help with the discomfort. She said her placenta was "super weak," which caused significant bleeding.
Last month, Tegan shared how her third pregnancy was considered "high risk" following previous complications with the couple's two other children, 4-year-old daughter Luna and 2-year-old son Miles.
She was in awe of her baby boy "growing stronger than Luna or Miles" and moving around more than her two children had at that stage.
The family planned on naming this boy, Jack. Teigen described him as "the strongest, coolest dude."
About the Contributor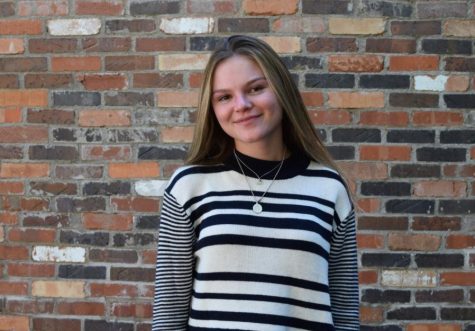 Ava Thornely, Social Media Editor
Ava Thornely is a Senior at Aspen High School. This is her third year as a writer and second as a social media manager. In her free time she enjoys skiing,...