Women of power: AHS front office of leaders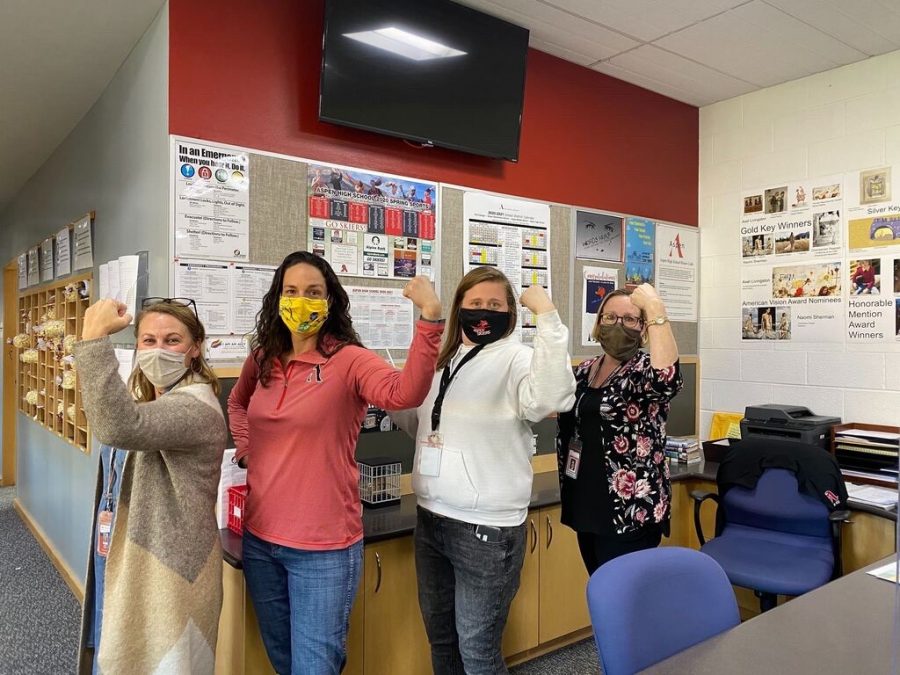 The female-powered administration office has implemented some of the progressive changes at AHS, like classes shifting to hybrid learning. Social change has been a consequential topic in 2020, and womens' roles in the workplace fits into that discussion. The timing of this all-women leadership team highlights the progress of women's social change. So what does it mean to have Sarah Strassburger, Becky Oliver, Martha Richards, Larissa Bohn, Alice Black, and Natasha Linn on the front line for this school year?
Alice Black, the AHS executive assistant, hasn't experienced an all female work environment in her previous occupations and, based on her experience so far, she is optimistic about the remainder of the school year.
"I think the supportive culture and teamwork are two of our greatest strengths. I think it's important to bring a variety of perspectives to the table when it comes to decision making. The lack of diversity could be a weakness but I think the current leadership [team] is great at communicating with department heads. Everyone works hard and is supportive of each other," Black said.
Though the consistent collaboration between this team proves to be effective, Martha Richards, the AHS athletics director, points out that a team of women is composed not only of good collaboration but of independent responsibility.
"We're very team oriented, but part of a great team is trusting the individuals to go perform their roles. And that is true in every single sport, everybody has to do their job well for the team to do well and yet you have to rely on each other to do your job well individually. So it's that yin and yang," Richards said.
Richards believes that the balanced environment of individual work and collaborative work this team has created results in better outcomes for the school as a whole.
"Because there is so much trust, people are willing to own their mistakes. And when you [perform your role well] the decisions are very thoughtful, they're very thorough, and when a mistake is made, people own it and they say 'how can I make it better' and that is something that everyone is looking for from employees and teammates. The environment that Sarah has put in place puts people in a position to be successful," Richards said.
Though this leadership team is promoting gender equality within their occupational roles, Becky Oliver, the AHS assistant principal, emphasizes that female empowerment is not the motive of hiring all women. Choosing the most qualified candidate is the first priority of both the employer and employee.
"I'm all for female rights and empowerment as women deserve to be treated equally. Where I get a little frustrated is when some women believe they or others should have a position rather than a man simply because they are a woman," Oliver said. "I believe the most qualified person should have the job. I am a woman who has worked really hard in my life and I want to believe that I am where I am today because of my hard work and dedication, not just because I am a woman, but rather because I'm a talented, hard-working woman and the most qualified candidate for the job."
In the overall discussion of women's rights, Richards comments on the misconception of what it means to ask for equality.
"We are in a unique time as a country where we have so many people that want to embrace equality of every kind, and then we have another faction of people who are very vocal that think that we are asking for more. And we're asking for equality," Richards said. "There are people out there that think that by asking for equality, you're asking for more. You are asking for more than what you have right now, but you're not asking for more than what your straight white people have."
Though 2020 has been immersed in shifts and changes, teamwork and collaboration have been a weapon for this leadership team to fight the unique challenges that the education department has experienced.
"If we have learned anything in 2020, we have learned the value of flexibility, creativity, resiliency, grace, empathy, and the importance of teamwork. The entire AHS staff is having to navigate these new challenges together this year," Oliver said.
About the Contributor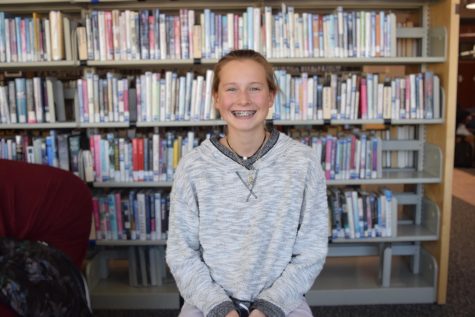 Stef Wojcik, News Editor
Stef is a senior at Aspen High School and this is her third year writing for the Skier Scribbler. She is a news editor this year and is excited for the...