Kamala Harris: the first female Vice President in America's 'herstory'
The 2020 elections will go down in our nation's history. With the first transgender state senator, Sarah McBride, elected to represent Delaware's first state senate district and Ritchie Torres representing New York's 15th district as our first Afro-Latino gay member of the US Congress, it goes to show how the government has grown to reflect the diversity of the American people. However, of all the social and racial barriers in the government broken these elections, the Vice President-elect of Kamala Harris is the most substantial, as she will make history as not only the first South-Asian and black Vice President, but as the first woman.
The election of Kamala Harris as Vice President of the United States is a historical moment for all of women and mankind, regardless of what party one affiliates with. Ms. Vice President-Elect is the daughter of immigrants to an Indian mother and a Jamaican father. She was raised to be the powerful woman that she is today with the hope of inspiring a new generation of female leaders. "My mother had a saying: 'Kamala, you may be the first to do many things, but make sure you're not the last'" said Harris-and this election certainly had a lot of firsts for our future vice-president. Harris became the first female, black, and South Asian Vice President since the Declaration of Independence was signed 244 years ago. 
Throughout 'herstory', or history viewed from a female or specifically feminist perspective, American women have faced sexism and objectification for their fight for equality. The Women's suffrage movement, or the fight for women's right to vote, continued for over 100 years before its long-overdue ratification on August 18, 1920. Since the office of vice-president came into existence in 1789, there have been exactly 48 Vice President. Out of those 48 vice-presidents and 231 years of the vice presidency, all have been presumed straight, white men. When Kamala Harris starts her term as Vice President on January 20th, 2020, the United States of America will truly show the magic of democracy to represent all of the American people. 
Growing up as a girl in a progressive family, I was raised to dream beyond the gender barriers of my time, such as the lack of female leads in everything from politics to sports.  As of age 8, I wanted to be President of the country that I knew and loved, the United States of America. My parents not only encouraged me but also fostered my dream inspiring me to become politically active by learning where I stood on issues. I went to protests and marches for issues that I believe in most, such as the Women's March and Black Lives Matter Movement, and learned the power of the Bill of Rights and freedom of speech. Vice President-elect Harris is a role model and icon for me, and all the women in America who dream of making a difference in the world through politics. Harris has proven that there is a future for women in politics, even in some of the highest and most powerful roles in our federal government.  
The election of Kamala Harris marks a new era for the dreams of little girls across the country, sending the message that yes, you too can hold high positions of power in this country and can be judged based not on your beauty but rather your brains. Nonetheless, our work is not done yet, first Female President for 2024!
Leave a Comment
About the Contributor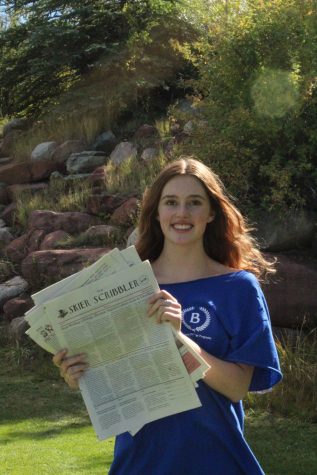 Oceane Jones, Editor-in-Chief
Océane Jones is an Editor-In-Chief of The Skier Scribbler. As an AHS senior, this is her third year on The Skier Scribbler In her free time, Océane enjoys...