AHS admin handles possible practice shutdown for sports
Despite the current increase in COVID-19 cases and the winter weather approaching, the Aspen High School administration is working diligently to keep sports practicing while following CHSAA and Pitkin County guidelines. Many sports in seasons B, C, and D are at risk of having practices shut down depending on the number of cases in Pitkin County and the recent snowfall.
Outdoor sports such as soccer and football practices are being shut down because of the snow. They are no longer able to practice on the turf, which means they will have to practice inside. On top of that, both outdoor and indoor sports don't have access to the gyms because they are being used for classes during hybrid learning. Although these sports are not allowed to officially start practicing before their designated start date for their season, they are still running optional voluntary training and workouts with their coaches. Even though athletes have this option, weather, as well as COVID-19, could be stopping them from participating.
Martha Richards, the AHS athletic director, finds that the most challenging part of her job right now is communication to both parents and students. At this point, Richards is unable to get students inside to train based on both Pitkin County and our school's health status.
"But that doesn't mean I don't want to, and that I'm not working really hard every day to try to figure out how I can make sure that these teams are prepared for their season. And that's really, really important to me," Richards said.
Richards believes that it's critical to have everyone prepared for their seasons, and to get people inside to work on their strength and conditioning so that they can perform well in their season. She hopes there will be a way to get sports training, and wants to stay "cautiously optimistic." Richards also sees voluntary training as a critical part of sports' training because they should start to learn their plays and what they do, and be able to train before the actual season starts so that they are in shape and ready to play by when that time comes.
"I like to think of it as the coaches providing opportunity, rather than, you know, mandating a practice, which they can't do at this time of year because we're in an off season by CHSAA rules," Richards said.
Although Richards is the athletic director, ultimately, the superintendent, David Baugh, and the assistant superintendent, Tharyn Mulberry, would have to give Richards the green light to start practices. Sarah Strassburger, AHS principal, is also a decision maker.
At this point, all administration is trying to find a way to get all sports back to training, or to start training in some cases. Right now, the task in place is to move the teachers that are teaching in both gyms out of them so that the athletes can train there. Additionally, Richards has devised a plan and protocol for the weight room. Strassburger believes the weight room protocol will begin the Monday after break, being November 30.
"Starting Monday after break, everyone will be able to use the weight room. Not like a free for all, but whether we're hybrid or remote. The only way that that'll change is if the county tells us we can't do something," Strassburger said.
Leave a Comment
About the Contributor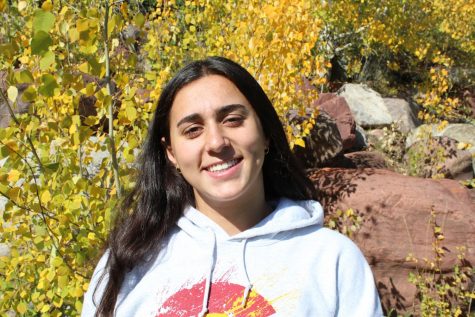 Kayla Tehrani, Editor-In-Chief







Kayla Tehrani is a senior at AHS. This is her third year writing for the Skier Scribbler and is very excited to be an EIC this year. In her...