"Barbara Kasten: Scenarios" at the AAM: a colorful and nostalgic exhibit
The exhibit "Scenarios" by Barbara Katsen is currently featured at the Aspen Art Museum (AAM), and it is guaranteed to please. The exhibit features a series of photographs, videos, and sculptural installations. According to the AAM, Kasten was greatly inspired by the Bauhaus Art School and the modern architecture in her hometown, Chicago. In this exhibit, Kasten's work focuses on light, shape, and movement through the use of acrylic forms and video.
Kasten plays with light and shadow in a whimsical way; her sculptures appear to have a light source, but in reality the sculptures reflect the light around them. Kasten's works give the viewer a feeling of nostalgia of the 1980's because of the neon and translucent acrylic. The colorful geometric shapes remind one of being a child full of wonder. While the sculptures appear somewhat simple, they are executed perfectly.
A crowd favorite of the exhibit was "Parallels 1," which features seven acrylic rectangles of various colors stacked on top of eachother. This large, eye catching, and simply beautiful installation appears to be a dream come to life because of its unsimilarity to the world. The sculpture reflected light onto the wall behind, adding even more to the experience.
Another notable work was "Scenario". This work featured a series of acrylic cubes stacked and free standing wall with video projected onto it. The cubes also "glowed" and this sculpture also had constantly changing video of shapes projected on the wall. This piece is extremely vibrant and aesthetically pleasing.
"Scenarios" by Barbara Kasten is an excellent and crowd pleasing exhibit that everyone should see.
About the Writer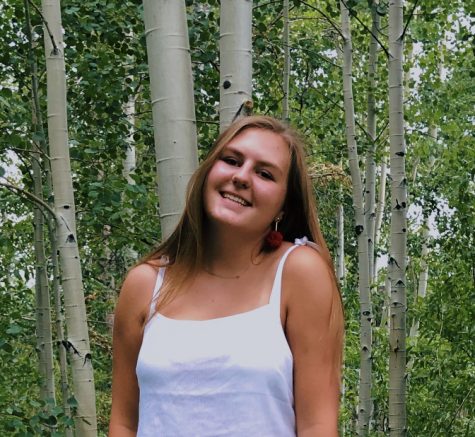 Tessa Guthrie, Editor-in-chief
Tessa Guthrie is a senior at AHS. She is currently one of the Editors-in-Chief. This is her fourth year writing for the Skier Scribbler. She loves to ski,...