Biden's first actions as POTUS
Since January, and the transition of Biden in office, the US has seen various political changes. From mixed feelings of relief and anger due to the election results, to various new acts being signed, there has been a whirlwind of activity in the white house in the past few weeks.
Only eleven days after Biden was sworn into office, he and his Vice President, Kamala Harris, have signed 42 executive orders. The number of executive orders continues to grow. The orders range under the categories of Health Care, Environment, Equity, Economy, COVID-19, Immigration, and Ethics. Many of these decisions reversed Donald Trump's previous executive orders.
The most influential acts so far fall under the Environment, COVID-19, and Immigration categories.
Under the vast umbrella of environmental issues, Biden has signed multiple acts to combat climate change and promote science. These orders include; 'Paris Climate Agreement', 'Protecting Public Health and the Environment and Restoring Science to Tackle the Climate Crisis', and 'Memorandum on Restoring Trust in Government Through Scientific Integrity and Evidence-Based Policymaking' The Paris climate agreement order rejoined the US into the climate accord that was created to limit global warming. The Restoration of Science was signed to tackle the climate crisis, cancel the Keystone pipeline and force many agencies to reevaluate 100 of Trump's actions on the environment. And lastly the Restorying Trust in the Gov. order made certain federal positions responsible for ensuring scientific integrity.
In response to the COVID-19 outbreak, Biden signed major orders to assist the US in returning to normal in the near future. Some of these acts include a 'Executive Order on a Sustainable Public Health Supply Chain' and an 'Executive Order on Ensuring a Data-Driven Response to COVID-19 and Future High-Consequence Public Health Threats'. Both orders push policy makers to put an emphasis on producing more vaccinations right now and another emphasis on more data driven action in the future in response to viruses.
Lastly, immigration was debated often during theTrump presidency, and Biden inherited many issues regarding immigration policies. Acts like 'Preserving and Fortifying Deferred Action for Childhood Arrivals' or 'Proclamation on Ending Discriminatory Bans on Entry to the United States' have been introduced to undo many of Trump's policies regarding immigration. These orders strengthen the rights of undocumented and children in the US, reversing racially charged travel bans on certain countries.
Leave a Comment
About the Contributor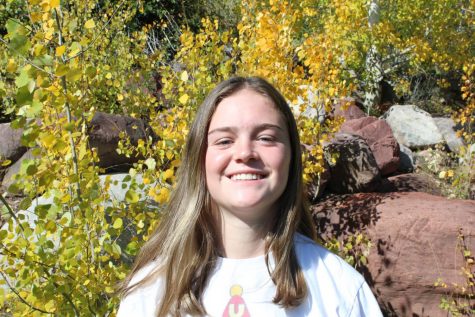 Jenny Ellis, Editor-In-Chief
Jenny Ellis is a Senior at AHS. She is in her third year as a writer for the Skier Scribbler and first year as an EIC. She likes to ski, play soccer, skateboard,...