What science tell us about vaccines effectiveness against Delta Strain
As society goes back to school and work, stress around the Delta strain of COVID spreads across the country.
MASKS & VACCINATIONS
Masks are still mandatory for many institutions, including Aspen High School, even with the majority of Americans being vaccinated. According to the Center for Disease Control (CDC), 177.1 M Americans — 51.6% of the total population — have received the full course of vaccinations necessary to protect against COVID-19.
Even vaccinated individuals can catch, and spread, the Delta Strain. As the CDC emphasizes, "[The vaccines] are not 100% effective, and some fully vaccinated people will become infected (called a breakthrough infection) and experience illness."
The COVID-19 vaccines approved by the FDA in the United States are highly effective against the prevention of hospitalization, serve infections, and death, including against the Delta Variant.
DELTA VARIANT
The Delta Variant is currently the predominant COVID-19 variant in the United States.
According to the CDC, the Delta Variant is more than twice as infectious, and spreads faster, than the early forms of SARS-Co-2 (the virus that causes COVID-19), including in vaccinated individuals.
Vaccinated individuals are still catching the new strain of the virus, yet it is still a relatively small percentage of individuals, meaning that vaccinated individuals that are diagnosed with COVID-19 are considered 'breakout cases.'
Currently, we lack statistics as to what percentage of fully vaccinated have been infected with the Delta Variant.
Vaccines are playing a vital role in limiting the spread of the Delta Variant. The risk of breakthrough infection of vaccinated individuals remains low, and high vaccination coverage will reduce the spread of the Delta variant and the formation of new variants.
Furthermore, when fully vaccinated people do carry the Delta variant, they spread it to others for a shorter period of time.
ANTI-VAX & ANTI-MASK
Unvaccinated individuals remain the greatest concern to the health and government officials, as they are not protected from the new Delta Strain and can spread the virus for a longer period of time.
According to major health organizations, anti-Vaxers and anti-maskers threaten to bring the world back into lockdown, as they are the least protected from the Delta Strain.
Getting fully vaccinated is the best way to protect yourself, your family, and your community, as well as your freedom as an individual. Continuing to wear masks indoors and in public areas, in addition to getting vaccinated, will help heal the world and bring our nation back to normal.
Leave a Comment
About the Contributor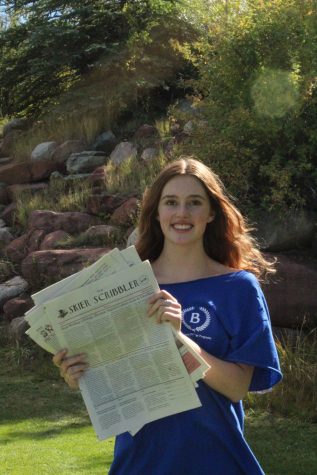 Oceane Jones, Editor-in-Chief
Océane Jones is an Editor-In-Chief of The Skier Scribbler. As an AHS senior, this is her third year on The Skier Scribbler I. her free time, Océane enjoys...