Mask Mandate Clarifications
Aspen High School students are continuing to wear masks at school this fall in an effort to stop the spread of COVID-19, as well as encouraging vaccination for students and teachers.
Inability to social distance and meet the requirements to outline Pitkin County's September indoor mask mandate starting Thursday, September 16.
AHS assistant principal, Becky Oliver, is working hard to ensure that students wear their masks in school in support of the Pitkin County mandate.
"The Board of Health has mandated that we have to wear masks. It's not a matter of being vaccinated or not vaccinated. We just all have to wear them." Oliver said.
Students understand the requirements for a mask mandate and appreciate the extra layer of protection it provides. Ben Clark, a sophomore, is one of the students that value the mask mandate.
"I feel safer with a mask because masks are proven to work. With a family that I see a lot, I want to keep them safe as well. It's not only me that I'm putting at risk. I wear a mask just to protect me and my family," Clark said.
Though most students like Clark understand the importance of maks, some students feel they have already done their part by getting the vaccine and want to stop wearing masks.
"I received both the first and second dose of the Pfizer vaccine with an 87% effectiveness against contracting COVID and a 95% less chance of being hospitalized. My personal opinion is that masks are very obstructive and uncomfortable. It should be recognized that I do my part to help stop the Coronavirus," Nico Smith said.
However, the mandate is not permanent.
"If we breach the 70% vaccination rate at the high school, the Board of Health may consider releasing the mandate; if our local numbers are below the CDC red flag levels. We kind of have to wait and see how the community members impact those numbers," Oliver said.
Clark believes that stopping the spread of COVID-19 should be simple.
"You can just remember for yourself to keep your mask on, and be a role model for others," Clark said.
Leave a Comment
About the Contributor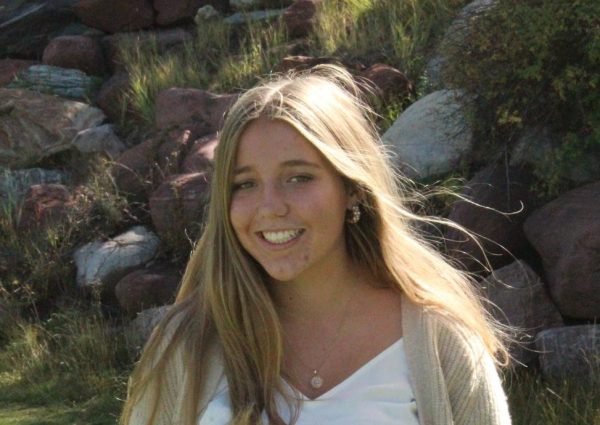 Lauren Kinney, Social Media Editor







Lauren Kinney is a senior at AHS.  In her free time, she plays lacrosse and loves spending time outside with friends and family. Lauren...