Darling, This is Just the Film For You
With its tidy mid-century homes, manicured lawns, and shining cars, the 1950s set of Don't Worry Darling, Olivia Wilde's long-awaited horror film, which hit theaters last week, paints an idyllic, glossy oasis, complete with its meticulous costume design. But the total lack of any chaos is eerie–is it all too perfect?
In this gleaming society, located in the Californian desert, the wives spend the day cleaning at home, ready to greet their husbands with a smile and cocktail when they return home from working on the top-secret "Victory Project". The film centers on Alice (Florence Pugh) and her husband, Jack (Harry Styles), as tension builds between the impossibly flawless paradise and a sinister reality below the surface.
Apart from its dazzling style, whose sheer beauty is enough to make the film worth seeing, Olivia Wilde's second movie as director packs an astounding plot that shocks viewers with its twists and turns. Despite drama during the promotional campaign, rumored to include an on-set relationship between Styles and Wilde, the final film is a thrilling, stunning adventure, garnering $30 million globally in only 6 days. The all-star cast delivers captivating performances, although Pugh stands out and carries some of the more complex and demanding scenes, especially with Styles sometimes falling short due to his lack of prior acting experience.
Throughout the film, Alice is expected to remain calm, happy, and obedient in the prison-like role of a traditional housewife, as her suspicions are pacified by both official men and Jack. Their dismissive attitudes contrast with repeated, distorted visual motifs and Pugh's phenomenal performance, emphasizing the validation of mental health concerns, the issue of the treatment of feminine "hysteria" in the 1950s, and the courage it takes to question oppression. The film effectively conveys the danger of viewing domesticity as a fantasy, and includes aspects like the harm that expectations can also have on men, but leaves some room for nuance such as intersectionality, especially with its relevance to the current attacks on abortion rights across America aiming for similarly devastating control.
The film's impeccable visuals and increasing dissonance are perfectly complemented by its haunting, signature melody, "a demo from [Style's] piano," according to an interview with Wilde for Vanity Fair. The tune leaves the audience fully engrossed, disturbed, and wanting more, and similar to Pugh's earlier "Midsommar," the viewer feels pulled into the unpredictable ride along with Alice. Despite earning a 38% on Rotten Tomatoes, Don't Worry Darling is a mind-bending, brilliant work of cinematography accompanied by stellar acting.
View Comments(1)
About the Contributor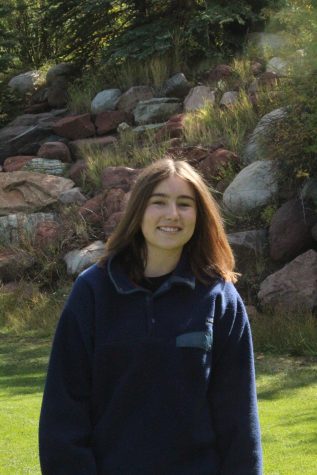 Harper Axelman, Editor-in-Chief







Harper Axelman is a senior at AHS and this is her third year writing for The Skier Scribbler. She enjoys spending time outside, skiing, and...