Students' response to in-person learning
Aspen High School's virtual learning system has become a routine for students – especially given the comfort of being at home and waking up later. However, October offered exciting change when cohort 1 started their first week of in-person learning, followed by cohort 2.
AHS created a safe environment for students, teachers, and faculty members to return in-person and have even included free, fast-result COVID-19 testing. Though many progressive steps were implemented to keep the school open, the recent threat of an increase in cases, both in AHS and in the community, forced the high school to shift back to virtual mode.
Cohort 1 was given a half week before AHS Principal, Sarah Strassburger, sent out an email regarding the return to online classes. Strassburger mentioned in the email that the health and safety of families are most important. Some students are apprehensive about returning to virtual learning after experiencing the school's closest solution to reverting back to normal.
Bryce Cordts-Pearce, a senior at AHS, was in cohort 2 and was very fond of being back at school.
"I really liked how I was able to see people and finally have real motivation to do work," Cordts-Pearce said. "I found that the cohort system was fair and I think it was a good step in the right direction."
A member of cohort 1, AHS junior, Stella Halferty was one of the first students to test out the in person experience of the hybrid model. Though she thoroughly enjoyed the setup, she recognised the need to shut down.
"Interacting with teachers and peers was so nice and I learned much more in-person. I like being with others that I don't typically see outside of school," Halferty said. "I am a little bummed that in-person only lasted for a little bit, but I am glad the school is taking extra precautions to keep our community safe."
In an attempt to reopen the school, the next obstacle that AHS must face concerns Thanksgiving and winter break, where students travel and visit family members, possibly increasing their exposure to the virus.
"I don't think that we will be able to open, especially in full capacity. People want to be back in a "normal" setting but I don't think that is possible because many people travel," Halferty said.
Michaela Kenny, an AHS sophomore, wants to return to in-person learning after the holidays, but she would be most excited if the cohorts could be combined.
"If we went back to school, I would like for everyone who wants to return to go back together," Kenny said. "I feel like this would make it easier on the students as well as for the teachers."
Though the future of how AHS will operate is still uncertain, students are hopeful to return back to in-person learning, and even make the spring term somewhat similar to normal living.
"I was really excited for this school year, and many people were too, but the pandemic has definitely changed how we learn and it limits what we can do," Kenny said. "I am still hopeful that we can return and proceed with the in-person learning!"
About the Contributor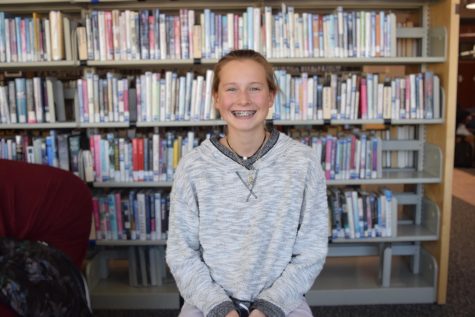 Stef Wojcik, News Editor
Stef is a senior at Aspen High School and this is her third year writing for the Skier Scribbler. She is a news editor this year and is excited for the...