What it's Like to be a Ski Racer
Hang on for a minute...we're trying to find some more stories you might like.
When I slide into the start gate on my long skis and tight boots, it's a terrifying feeling. Ski racing is a practice that goes under-acknowledged in the world of skiing and snowboarding. Not many people really know the level of hardship and dedication one needs to give in order to compete in the sport.
There are several different forms of ski racing. There is slalom, which is a very technical style of racing, and it involves poles that are close together, and are meant to be knocked down as the racer turns around it. Giant slalom is, although less complex, just as difficult. It requires panel gates that are further apart. There are speed events, like downhill and super G, in which the gates are much further apart and much faster (my personal favorite).giant slalom, super G, and downhill. Slalom and giant slalom are the more technical styles of racing, while super G and downhill are speed events.
My former hill, Hidden Valley, is about the size (if not less) as Panda Peek at Buttermilk. My background in ski racing before I moved here is hardly plausible. Although I frequently visited during the winter to ski, I never acquired the skills to even come close to anyone else on the team.
A freshman at Cornerstone Classical School, Alex Engelmann, is a serious athlete on AVSC.
She said "My favorite part of being a ski racer is being on a team and having the opportunity to go fast"
Before the mountains opened, the team met up nearly every day to condition and build muscle in preparation for the ski season. We also would go to resorts that had already opened, like Loveland and Copper. Coming from a hill where few people really knew what they were doing, it was very difficult to do pretty much anything with my team without getting harshly criticized-in a playful manner, of course. I didn't have the right gear, mindset, or enough experience in the field of ski racing.
I didn't know how strenuous the path to success it was going to be. When I first trained a slalom course, I barely hit the gates. Although I tried to, I pretty much just ran into the gates. When I first trained giant slalom, I had on a pair of short, old skis that would have fit a ten-year-old.
Engelmann said, "I'm afraid of injuring myself to the extent that I'm out for the season".
Although it has been challenging, I have grown and improved substantially since my first few weeks with Aspen Valley Ski Club. Although I definitely am not at the level of some of the other top athletes, hopefully, one day I'll get there.

About the Writer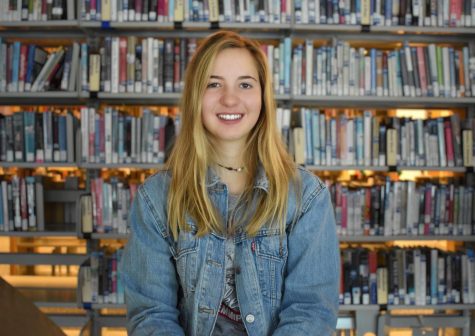 Kaelyn Kroeger, Staff Writer
Kaelyn Kroeger is a freshman at AHS and a Staff Writer for the Skier Scribbler. This is her first year as a journalist and at AHS and recently moved to...