"In the event this doesn't fall apart," the long awaited poetry collection by Shannon Barry
Shannon Lee Barry's debut book is about two things: falling in love and Dom J. Fera. Barry released her first poetry collection in early December of 2020 entitled, "In the event this doesn't fall apart." Her rich portfolio on Instagram features poetic captions, introspective thinking, and a combination of bittersweet milestones.
Her poetic nature and life experiences were the perfect foundation for her debut poetry collection and offered her fans a further look into her relationship with her boyfriend, Fera. She catalogues how she felt while falling in love through the book and offers an outsider's inside look into love.  Professionally, Barry is an LA-based writer and actress, starring in multiple short films and stage roles. Barry also shares her struggles with Crohn's disease, a chronic disease that is often debilitating and has caused her issues with casting during the pandemic.
The poetry book was originally a gift to her boyfriend that chronicled the first year they were together and is a peek into her early emotions during the relationship. The process of writing the book lasted roughly two years, but in the first year, she technically didn't know she was writing poems that would later be published. She gave Fera a copy of the book on their one-year anniversary and then spent another year editing and working behind the scenes to get it published.
Her collection captures a beautiful narrative of love, from their smallest moments to their (almost!) first kiss. She writes elegantly as well as sincerely and not only details her emotions while falling in love, but shows the reader her raw perspective of fear in regards to falling too fast and forming new, deep relationships.
As the reader moves further into the collection, they experience all the confusion and trepidation that Barry felt in the moment. The collection truly feels like peeking into someone's diary and sinking into their life. Barry's perfect combination of prose and poetry brings the reader into her life so carefully; it feels like you're holding hands with the pages.
The book is sometimes difficult to follow as locations aren't always clear or some context is left out. Whether for artistic expression or privacy, the lack of complete disclosure further cements how personal and intimate this book is. It's not meant for a "reader," it's meant for Fera. Inside jokes or small allusions to their lives go over the readers' heads but still leave remnants of their existence. This makes the collection seem so much more genuine instead of an augmented love for the sake of the reader.
"In the event this doesn't fall apart" feels like stepping into the shoes of Shannon Barry and falling head over heels in love. She captures a vulnerable and tender account of her journey towards falling in love and making her own path in life. You can find the book on Amazon and can find Barry on her website. 
About the Contributor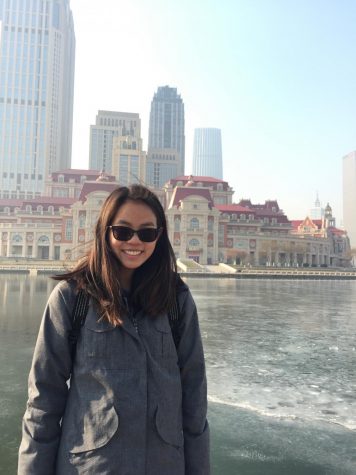 Aja Schiller, News Editor
Aja is currently a senior and has been writing with the Skier Scribbler since she was a freshman. She's spent her quarantine growing new plants, reading,...