Pick up your trash, drop the BS
Every day after lunch, our janitors have to pick up after certain impolite members of the AHS student body. Though students may be gone; tables, unstacked chairs, and even piles of trash are left behind. The Commons is littered with wrappers and crushed food. Single-use plastics and food scraps that should easily find there way into the trash bins seem to be everywhere, but the trash. Most students cannot be bothered to stack a chair or throw away a plastic bag. For students, cleaning up after themselves can barely be considered a chore. But cleaning up after over 500 students because of a sizable task for hardworking janitors like José.
This is an immeasurable and time-consuming task for one man. Picking up after over 300 students is already a difficult job, but the amount of trash that gets carelessly left behind makes it even harder because that can add at least 30 minutes to the cleanup process. Very few students actually clean up after themselves.
The messy lunchroom does not go unnoticed by all students. Senior Lourdes Ferreira posted a picture to the AHS Facebook page of a lunch bowl in the girls' bathroom.
Part of Ferreira's caption reads "Is it really that hard to put your food in the trash?" Posts or comments like these are helpful and expose the problem.
Other students take different routes in trying to find the solution, such as sophomore Riley Rushing. Rushing's theory is that everyone has a small job instead of giving a big job to our Custodian who should not have to face the mess of over 300 students every day.
"I think that it is important for everybody to clean up their own mess and do their individual job," Rushing said.
Although cleaning up is technically a janitor's job, it is up to all of us to keep our school clean. The janitors do enough around AHS that the student body isn't always necessarily aware of. There is no need for students to create more tasks for them to complete. Next time there is a piece of trash pick it up, and thank our janitors for what they do for our school.
Leave a Comment
About the Contributor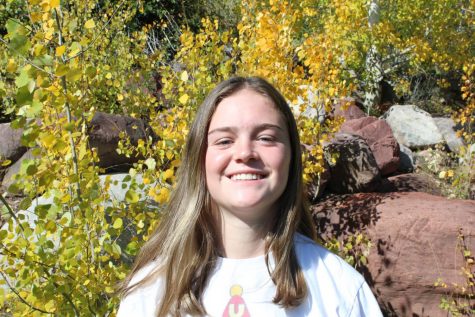 Jenny Ellis, Editor-In-Chief
Jenny Ellis is a Senior at AHS. She is in her third year as a writer for the Skier Scribbler and first year as an EIC. She likes to ski, play soccer, skateboard,...