Everything you need to know about AHS's new hybrid schedule
Aspen High School students have not set foot on campus since March 11th, and now, after seven months, students will be allowed to return to in-person learning.
On October 12th a new hybrid learning schedule will be tested virtually, and on the 26th, the schedule will officially permit students to return to hybrid in-person study. This article has everything that parents, teachers, and students need to know about the hybrid schedule, as well as what returning back to school will look like for the foreseeable future.
AHS students have the option to either remain online or return to campus partially in a hybrid learning format. According to AHS principal, Sarah Strassburger, as of October 7th, 490 parents responded to a survey asking whether their child would be returning to campus or remaining online.
Out of the 490 surveys, 100 students declared that they would continue online. Although this number fluctuates daily due to incoming responses, it indicates that there is a mixed response surrounding AHS student's return to campus.
What is hybrid learning?
Hybrid learning is an educational approach that incorporates both in-person education and virtual learning. This form of education is about finding the safest possibilities for in-person learning. Many schools across the country have chosen the route of hybrid learning in order to meet the needs of the student body as a whole, and help students adapt to the varying situations.
With hybrid learning, students can take ownership of their own education and what works best for them. Both face to face and virtual learning have benefits and weaknesses (depending on personal needs).
The new hybrid schedule
The new schedule is a big departure from AHS' current one. For starters, classes will begin at 9 am rather than 8 am. This time frame was established due to the need to run two bus routes, one for AES, and one for AMS and AHS. 9 am classes also provide time for office hours in the morning before regular classes begin. Wednesdays will be virtual for everyone.
Along with these adjustments, the daily two hour break period will be shortened to 40 minutes.
Every class will be lengthened to 85 minutes, with four class periods on Monday, Tuesday, Thursday, and Friday.
AHS math teacher, Josh Anderson, has also creatively allegorized a system to balance class sizes, as well as limit the total amount of people present in the building at any given time. While the division begins with an alpha split, it should be noted that there is a possibility that some students will be moved to a different cohort to further balance class sizes. Each week, the two cohorts will alternate learning styles.
Acknowledgments
This schedule was created by the ASD task force members of teachers, staff, parents, students, and other contributors of the Aspen District. Without them, this possibility of in-person learning would not be plausible.
Leave a Comment
About the Contributor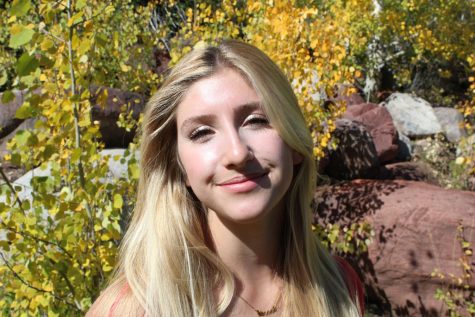 Hannah Smith, Editor-In-Chief
Hannah Smith is a senior at AHS and an Editor-In-Chief of the Skier Scribbler. This is her third year writing for the paper. In her free time, Hannah loves...