COVID and the holidays
This holiday season contained complex elections, COVID stats skyrocketing, and virtual visits with loved. Without typical holiday traditions or activities available to most people, many were left brainstorming new ways to spend 'the most cheerful time of the year' with friends and family safely.
From finding ways to keep family dinners festive, yet apart, to shopping almost exclusively online rather than browsing malls, people have found new ways to enjoy a COVID holiday. While also trying to keep the magic alive.
AHS junior, Alice Collins, created a Zoom meeting with her loved ones to enjoy Christmas Eve together in a responsible way.
"Even though I couldn't see my grandparents normally, FaceTiming with them was actually really fun. I was doubtful about how it was going to work out but our zoom call was 100% a success. It didn't even feel like a chore to talk to my grandparents on a call, and we ended up hanging out with them for a while just catching up. I could definitely see my family continuing this new tradition in the future," Collins said.
Julisa Ruiz, a freshman in college, opted to shop online this year rather than going to any malls in person.
"Normally my family and I go to Cherry Creek to go shopping for all the presents we want to get. But obviously this year that wasn't an option. So we had to order everything online which was definitely an experience… many gifts did not come in time. But to be honest it might have been easier to do our shopping this way… maybe next year we will do both ways," Ruiz said.
Elijah Goldman, also an AHS Junior, opened up about initial struggles of navigating ways to enjoy the holidays safely with friends. But when he did Goldman found many exciting things to do.
"Originally I was worried about break because my parents weren't letting me go to my friends houses and my friends couldn't come to my house, so basically I had to find something to do outside. Eventually we found so many activities to do outdoors. We skied, night sledded, car sledded, and even made fireworks," Goldman explained.
Leave a Comment
About the Contributor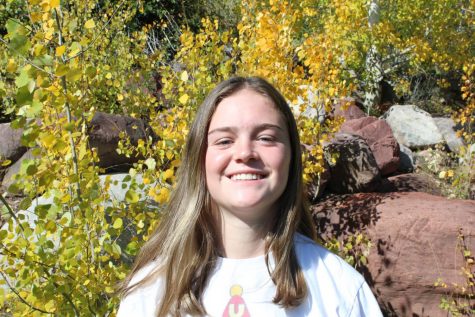 Jenny Ellis, Editor-In-Chief
Jenny Ellis is a Senior at AHS. She is in her third year as a writer for the Skier Scribbler and first year as an EIC. She likes to ski, play soccer, skateboard,...