A Look Into "Don't Look Up"
"Don't Look Up" has passionate reviews debating whether the film leans into a deeper, more political meaning.
"Don't Look Up" is a newly-released film on Netflix by Adam McKay. This film stars well-known actors such as Leonardo DiCaprio, Jennifer Lawrence, Meryl Streep, Timothée Chalamet, and Jonah Hill. According to the official Rotten Tomatoes Website, the film has a 55% for the Tomato meter rating, receiving a 78% from the audience score.
The focus of this film is based on a comet orbiting within the solar system, estimated to be on a direct path to hit Earth. This comet is calculated to hit in 6 months, maintaining enough power to wipe out human existence. As the movie begins, no matter how many people, Michigan Tech Ph.D. candidate, Kate Dibiasky (Jennifer Lawrence) and Dr. Randall Mindy (Leonardo Dicaprio) talk to, nobody seems to care. Throughout the movie, people's opinionated stances intensify, further dividing the world.
This film being labeled as a satirical comedy was far from unnoticed to viewers who commented. Not only does "Don't Look Up" focus on the argument between climate change deniers and believers, but it also pivots around the political divide in America.
Neil deGrasse Tyson, an American astrophysicist, planetary scientist, and author of many space-regarding books, tweeted about "Don't Look Up." He agrees with the satirical comedy reviews, as he joked about the crisis shown in the movie, saying it was so close to real life that they might as well call it a documentary.
"Everything I know about news-cycles, talk shows, social media, and politics tells me this film was instead a documentary," Tyson stated in a December 29th tweet.
As the film's main focus appears to be about climate change, it doesn't seem to be the real focus. "Don't Look Up" mainly prioritizes the spread of misinformation through social media and news, a major societal problem currently. Through talk about theories of hoaxes, "Don't Look Up" can relate to covid-19 an equal amount. There are theories behind covid-19 concerning the "creation of", vaccines, and the existence of the virus overall.
"Don't Look Up" is more than just a satirical comedy. It conveys the impression of another day in the modern world through the fast-moving spread of politics, social media, and news.
Leave a Comment
About the Contributor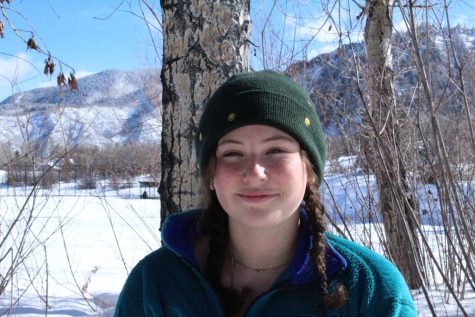 Quintessa Frisch, Staff Writer
Quintessa Frisch is a freshman at Aspen High School. This is her first year writing for the Skier Scribbler. In her free time, she enjoys ice skating,...