'Ghosted' leaves audiences wishing they were dead (and not in a good way)
*Warning: this article contains spoilers about the 2023 film "Ghosted"
The word ghosted, as defined by the New York Times, is when "someone cuts off all communication without explanation". Sadly, being ghosted is probably a better alternative to wasting 1 hour and 56 minutes watching Apple TV's newest release "Ghosted." The romance-action comedy follows down-to-earth Cole (Chris Evans) who falls for enigmatic Sadie (Ana de Armas), a nonchalant CIA agent. Produced by Skydance Media and Apple Tv, Ghosted was released on Apple TV + on April 21st, 2023.
To call this film a failure would be a gross understatement. There is absolutely no chemistry between protagonists Evans and Armas. The love between the two feels painfully forced. Watching the two actors kiss reminded me of the repulse that one might have kissing a sibling, or even the face that one makes when eating or drinking something horrid: all together disguised. The filmmakers' exhaustive mission to portray the interaction between these two characters as romantic love at all costs even comes to the audience being clearly told by the side characters of the nonexistent chemistry between the two, with a common chant of telling the 'couple' to "get a room", happening almost even scene throughout the movie.
Additionally, the producer shot at comedy is staggeringly incompetent, and for my family and I, it resulted in more cringe than any sort of comedic response. For instance, a running joke throughout the film is that all of Armas' exs lose their limbs after dating her. This joke did not hit, the most hilarious element being that Armas seemed to have greater chemistry with her ex's, than the film's protagonist and her current 'boyfriend', Evans.
Another fatal flaw of this film was the basic lack of cohesion in the plot, so much so that the audience is distracted trying to piece together how such a situation logically occurred. When they should be following the plot of the film itself, they are instead stuck on little moments that make them wonder "how, and why would this ever be included?" One such moment that was an obvious intrusion and even cause of argument in my household was at the beginning of the film when Evans somehow was taken from London to Pakistan in a matter of what seemed like minutes. I fear that this might severely and negatively impact people's perception of world geography, as in my household it caused a debate if there was, in fact, an underground tunnel from Pakistan to England, which was briefly resolved after Google deemed this notion impossible.
The film even throws in brief cameos from famous actors, seemingly to distract audiences from the lack of foundation of the plot or character arc that the film has. However, due to Evan's role in the marvel universe playing Captain America and the fact that many of the cameos are from actors that are also associated with Marvel, it makes the end of the film seem like an ad for a marvel movie that should only exist in the previews.
Ghosted received an IMDB rating of 5.8 out of 10, and 30% rotten tomatoes (or 1.5 stars), which is earnestly more than I believe it deserved. After reading heaps of reviews, my favorite remains Peter Sobczynski on the film blog site Roger Ebert, which deemed to be beautifully written and more comedic than the film itself by a long shot. Sobczynski is a truly brilliant writer, constructing a wonderful illustration of Ghosted which is delightful to read, for instance summarizing the movie as a "staggeringly, maddeningly atrocious heap of increasingly boneheaded decisions that will act as depressing documentation of just how rotten things got in the current oversaturated streaming landscape".
For anyone who has not yet seen the film, I encourage you to watch a movie of greater quality, perhaps something on the lines of director Paul Feig's "A Simple Favor," and not waste your time. However if you would like to form your own educated opinion, it is available on the Apple TV streaming services for premium subscribers.
Leave a Comment
About the Contributors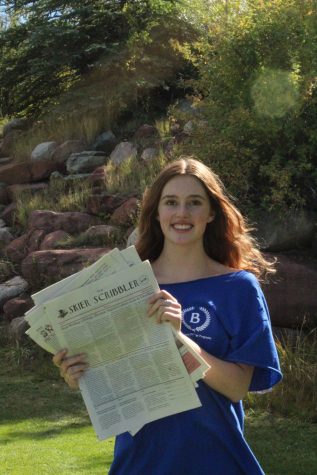 Oceane Jones, Editor-in-Chief
Océane Jones is an Editor-In-Chief of The Skier Scribbler. As an AHS senior, this is her third year on The Skier Scribbler In her free time, Océane enjoys...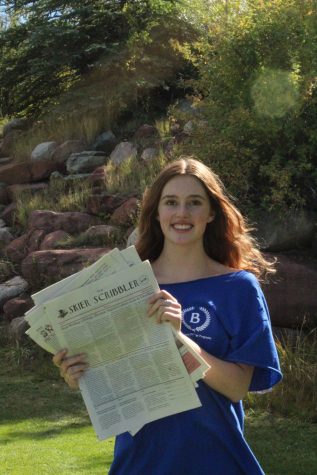 Oceane Jones, Editor-in-Chief
Océane Jones is an Editor-In-Chief of The Skier Scribbler. As an AHS senior, this is her third year on The Skier Scribbler In her free time, Océane enjoys...