AHS golf team swings for a win
The AHS boys golf team hopes to defend their state title as they head into the state championships this week as underdogs.
After the Skiers finished second at regionals last Wednesday for the first time in years, they will head to the 3A state tournament in Colorado Springs. The four athletes heading to states are hopeful that they will make it to the top of the leaderboard with unique advantages that they have going into states, such as less pressure and experience on the course where they are competing. The team will compete in Colorado Springs on the 7th and 8th of October this Monday and Tuesday, and the results from the tournament will be released Wednesday.
One of the athletes who qualified for states at regionals last Wednesday, Jack Pevny, is a veteran at this tournament, while the other three athletes, Nic Pevny, John Hall, and Lucas Lee, are heading to states for the first time.
"It's definitely a different feeling than last year, definitely a different mentality going into it, having it be my last year there's definitely some extra incentive towards that, and you know however it ends up I'm definitely satisfied with my high school career and I can say it's been a good run," said Pevny, a senior at AHS who will be heading to his third state tournament.
Mary Woulfe, the coach of the boys' golf team, feels that Pevny and the team are prepared to accomplish their goals, such as scoring under 84 strokes.
"Being second at regionals in some ways takes a little pressure off, and I think I think that's not a bad thing, going into the state championship to feel like the underdog a little bit," Woulfe said.
The athletes are optimistic going into the tournament although they did not win at regionals.
"We know we're capable of winning, we just gotta play well and stay focused," Said Nic Pevny, a sophomore at AHS who is heading to states.
Lucas Lee, another sophomore, feels that this year the championship could be different than other years.
"Yeah, not as much pressure-I don't think- going into it, there's still pressure, but compared to last year we're really the favorites. We've got really got nothing to prove except to go out there and shoot well." Lee said.
The competition will be held at the Eisenhower Blue golf course, which is located at the Air Force Campus in Colorado Springs.
"I think we can do a really good job on this course, it just plays to all of our abilities, we should be pretty set," said John Hall, a junior at AHS who qualified for states this year. "The tournament we played there we won, so we had some pretty good success, and I like the course, it caters to me as a golfer and it should be real good for us."
The team has been preparing for states and regionals, but they are not only preparing for competitions. They are also preparing for life after high school as well.
"It teaches you a lot about yourself, you know, you have to referee yourself, you have to call penalties on yourself. You have to count all your strokes, it is probably the sport with the greatest amount of karma. Like if you cheat in golf, it will come back and bite you. Especially cause its just such a game of honor. soI think it teaches really wonderful virtues and character qualities that you want." Said Martha Richards, the athletic director at AHS.
Leave a Comment
About the Contributor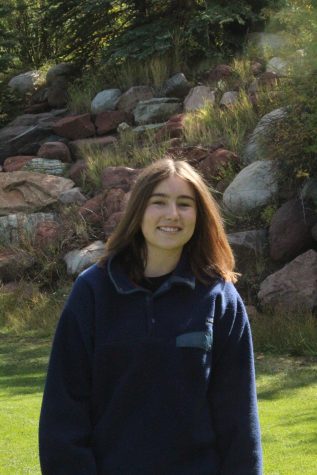 Harper Axelman, Editor-in-Chief







Harper Axelman is a senior at AHS and this is her third year writing for The Skier Scribbler. She enjoys spending time outside, skiing, and...