Aspen Skating club production will feature world class guests and local skaters
The Aspen Skating Club is hosting a show on Saturday that will showcase local figure skaters' talent and will also feature guest skaters Mirai Nagasu and Alexander Johnson, who are Olympians and international competitors.
The show, Frozen Adventures on Ice, will take place at the Aspen Recreation Center at 2:00 and 5:30 pm on Saturday at the Lewis Ice Arena. Tickets to the show are $10 online, $25 at the door, and $40 to sit on the ice, and admission for children under 4 years old is free. The show will feature two-time Olympian Mirai Nagasu, the first U.S. woman ever to land a triple axel at the Olympics and bronze medalist at the 2018 Olympics, as well as Alexander Johnson, US championship skater and international medalist.
There will also be a bake sale and auction at the show benefiting the Aspen Buddy Program and Aspen Skating Club. The show features characters, costumes and sets based off of the hit movies and features local skaters from all ages.
Corrie Buchanan is a freshman at AHS who will be playing the character Anna alongside AHS senior Belle Kowar who will be starring as Elsa. Preparing for the show is a long and rigorous process, but Buchanan feels the hard work is worth it to culminate in a fun and entertaining performance.
"The show is something that a lot of people have worked really hard on, and we all just put so much effort and so much fun into it," Buchanan said. "We have guest skaters coming and you also get to see little skaters that have just started, so there's all different levels and you get to see this fun plot of Frozen in it, it'll just be really fun for everyone,"
The show is a fun experience for audience members but is also a great opportunity for local skaters. The skaters can meet world-class competitors and can work with them while preparing for the show. Teri Hooper, the head coach, and director of Aspen Skating Club, feels that this allows them to not only improve in the sport but also allows them to have role models to look up to in all areas of life.
"I think they set a beautiful example and it lets them see-right here at home-really high-level beautiful skating," Hooper said. "But I think [the guest skaters] are also setting an example with their personalities and their deliveries, as well as giving us a hands-on moment to see fabulous skating," said Hooper.
The sport of figure skating is something that Hooper feels not only benefits skaters athletically, but also teaches important skills that can help them to be a better person.
"Learning the balance, strength, and coordination that figure skating develops is good in life skills,…people that stay in figure skating, they learn delivery, they learn how to be on stage all by themselves, they learn how to self-discipline as well as group discipline, like how to get along with other skaters because they skate with them every day, and they learn how to work for themselves because it's an individual sport," Hooper said.
"I know from my experience it helped me because I had to get out there and perform all by myself, it helped me have the confidence to give a speech by myself, or just to take charge of my own life," Hooper said.
Leave a Comment
About the Contributor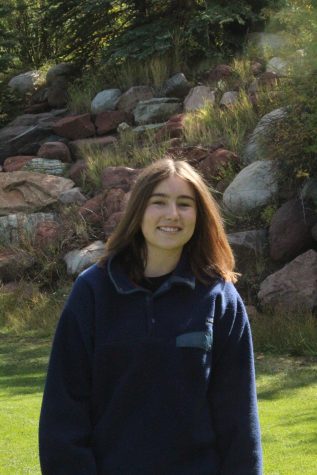 Harper Axelman, Editor-in-Chief







Harper Axelman is a senior at AHS and this is her third year writing for The Skier Scribbler. She enjoys spending time outside, skiing, and...