Unique Valentine's Day gift ideas for everyone you love
With February 14th soon approaching, some people might be struggling to find fun and creative gifts for their loved ones. Valentine's Day isn't just about couples and PDA(public display of affection). Anyone can show their friends, family, and even pets how much they care for them on this special day. This is why it is important to have a few tricks up your sleeve and give out "out of the ordinary" gifts to give all your loved ones this year.
If you are spending this day of affection with your significant other this year there are plenty of unique gifts you can give them that aren't the typical boring chocolates and teddy bears. From Amazon, to Tiktok, one can find a vast array of fun gift ideas for couples. On sites like Amazon, items ranging from distance touch bracelets to card games for couples.
Another great way to search for ideas is on Tik Tok. On this social media app, teens share unique ideas for Valentines gifts that you might get inspiration from. One of my favorites is filling your cliche heart-shaped chocolate box with crystal rocks for a fun twist from tradition, or going on a date where you play rock paper scissors to decide where to eat for the night. All of these ideas, whether materialistic or experientially based, are sure to make your partner feel special on Valentines Day.
For those of us who are spending Valentine's Day with friends this year, you too don't have to feel left out on this holiday. Giving gifts to your friends is a great way to say 'Love ya!'. For these types of gifts, DIY and online shopping can be perfect. For example, making paintings or making a Galentines meal with your friends. And for store bought items, "Why Your My Bestie" fill in books or skin care essentials to do together can make the day feel less lonely.
Finally, it is important not to forget potentially the most important people in your life, family. Even just a small, thoughtful gift for your mom or dad can mean the world to them. In this category, there are most definitely extra points for homemade gifts. Making cards or ceramic pottery can be a great way to show your love. Bath salts or fancy lotions can also be a wonderful gift to give your parents so they can relax for a little while. Luckily for everyone, you really can't go wrong this Valentines Day.
Leave a Comment
About the Contributor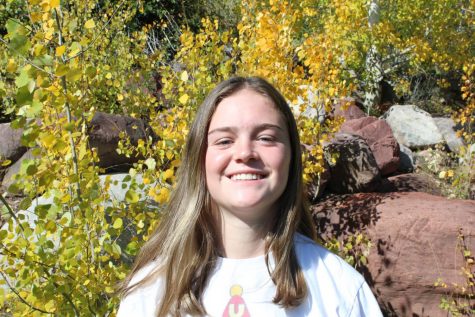 Jenny Ellis, Editor-In-Chief
Jenny Ellis is a Senior at AHS. She is in her third year as a writer for the Skier Scribbler and first year as an EIC. She likes to ski, play soccer, skateboard,...