AHS finally funds girls basketball team
The AHS girls basketball program has been around for over 84 years. It is one of the oldest sports at Aspen High School, yet up until a year ago it has received the least amount of funding. The grand total for travel, hotels, equipment, uniforms, and more, over eight decades came out to a whopping $12.53, a record low for any recorded sports team in the United States. But last season, something shifted and the AHS administration had a change in mind. Suddenly the school's entire athletic and academic budget was poured into the girls basketball team.
The cafe and kitchen were emptied, all the Intelligentboards in classrooms were sold, and the school collected students' McDonaldbooks to bid off on Egulf. All to fund the supposed 'worst team' in the school. This decision obviously caused large amounts of confusion in the student body and within the Aspen community as a whole.
AHS Senior, Wheres DaBudget, openly admits he was shocked when he went to get a pretzel and the cafe was empty. Yet DaBudget doesn't mind seeing the girls basketball get a shot in the limelight.
"I mean I feel like it's only fair, right? After, what, like 80 years of practically no funding they deserve to get some money. Even if I can't get some food to kill time in math. I feel like it's pretty chill. Also in all my classes we move a lot slower without a smartboard so school is easier for sure. I don't even think all that money will be equal to the amount they should have gotten over that much time," DaBudget said.
One member of the girls basketball team, Noo Pointss, is especially excited to finally be getting funding after three years of boys hand-me-downs and taking shared Üders to games.
"Oh boy am I stoked. This is so nice, you know how little the school used to care about our team? Sometimes they wouldn't even want to pay for electricity in the gym during our weekend games and we'd have to play in the dark. But all is forgiven now, our budget is like $500,000 dollars! We've been riding in our own jet to games and we even got Lakers signed jerseys and shorts for our uniforms. To be honest I have no idea why this happened, I mean we haven't even won a single game since '95. I guess they must feel bad for us," Pointss said.
Martin Richords, the athletic director at AHS had many answers to the same questions the whole town was asking. Although this strange new basketball investment seemed to have a wild story behind it, Richords explanation was actually quite simple.
"I won't lie guys, this whole thing was a mistake. I was tired and I accidentally clicked enter to transfer all the school's money into the girls basketball team. It was late and I had one too many Gatorades before I tried finishing up the budgeting spreadsheet and to be quite frank I was supposed to delete the girls basketball team off the spreadsheet completely. The whole program was supposed to get cut. But there is no way to reverse the budget until next year. So for now the girls basketball team is going to be losing by 60 points, but this time in Lakers jerseys and with gold covered balls," Richords said.
Leave a Comment
About the Writer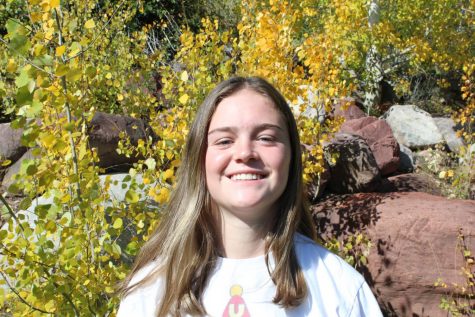 Jenny Ellis, Editor-In-Chief
Jenny Ellis is a Senior at AHS. She is in her third year as a writer for the Skier Scribbler and first year as an EIC. She likes to ski, play soccer, skateboard,...