LGBTQ+ or Not, 'Heartstopper' is Well-Worth Watching
While "Heartstopper" may seem like any other show of two high school kids falling head over heels for each other, it has acquired attention with its representation of and for LGBTQ+ teens.
The eight episodes of season one for "Heartstopper," originally a graphic novel written by Alice Oseman, came out on Netflix on April 22. According to the official Rotten Tomatoes Website, "Heartstopper" received a score of 100% on the tomatometer, and 98% in the average audience score. It is extremely well-loved, so this score is not surprising.
The plot includes Charlie Spring (Joe Locke) falling in love with Nick Nelson (Kit Connor), the popular rugby player at the Truham Grammar School for Boys. Charlie is widely known as being gay throughout the student body from a non-consensual outing, however, it is quite the opposite for Nick. Nick discovers his sexuality through falling in love with Charlie. He labels his sexuality as bisexual, but he questions the meaning throughout the first season.
Charlie has an accepting friend group of Tao (William Gao), Elle (Yasmien Finney), and Isaac (Tobie Donovan), whom the majority of are part of the LGBTQ+ community. Nick's friends consist of the rugby team, who shout out homophobic comments primarily directed towards Charlie and his friends.
High school students can relate to "Heartstopper" for multiple reasons. With it being one of the few coming-of-age high school shows that doesn't include swearing, sex, or drugs, it adds a more realistic expectation to young wathcers. With a lack of representation of realistically shown LGBTQ+ teens in TV shows and movies, I especially recommend it to teens in the LGBTQ+ community.
If it is known in your school that you are part of the LGBTQ+ community, then you may find it easy to relate to Charlie, especially if you are being bullied or tyrannized by it. If you are discovering your sexuality, gender identity, or both, then Nick is a good comfort character, as you will most likely relate to him in multiple ways.
As significant as "Heartstopper" is for LGBTQ+ youth, I recommend watching it if you have any high school experience at all. "Heartstopper" was extremely sentimental and sweet. So take a break from any heavy show you are watching, and head over to Netflix to watch this charming show.
Leave a Comment
About the Contributor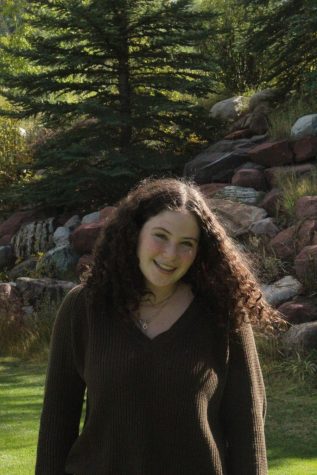 Quintessa Frisch, Opinion Editor
Quintessa Frisch is a sophomore at Aspen High School. This is her second year writing for the Skier Scribbler. In her free time, she enjoys the outdoors,...