The librarian who Cares: a new age for AHS library
With more than 120 books on the way, Caroline Cares is breathing new life into the Aspen High School library as AHS' first librarian in four years.
The library is now open from 8:00am to 3:45 pm, and Cares has already begun to transform the space with a plethora of new titles. New arrivals include fiction such as I Am Not Your Perfect Mexican Daughter by Erika Sánchez, non-fiction like The Hill We Climb: The Inaugural Poem for the Country by Amanda C. Gorman, and graphic novels such as Mooncakes and Pumpkinheads.
In addition to books, Cares brings a passion for her job, which was sparked when she met her librarian at Colorado College, who inspired her to earn a master's degree in Library Science.
"I got a job at Basalt Regional Library working with kids and I fell in love with it," Cares said.
Cares served as the head of youth services in Basalt for seven years before she came to AHS, a change that she's "loving".
"I realized that even though working in public libraries is great, it has its own challenges," Cares said. "I'm really enjoying working with students and teachers."
Cares is hosting a book club starting October 13th at the AHS Library, with free books and snacks provided. She is also planning a remodel of the library next summer.
"Right now there are plans with architects to make it [the library] kind of more cozy," Cares said. "There's going to be a fireplace and furniture that we can move around really easily."
Cares encourages students to come by the library or visit the library Schoology page if they have feedback about the vision for the space, or if they just want to talk.
"If anyone's bored or wants to play chess or Scrabble during their free periods, you're welcome to," Cares said, adding that if students need an SSR reading for literature class or a specific title, she can order books.
"I'm here for the students and teachers and I'm here for a resource. If they need anything with research or help with an essay or anything like that…this is the place to come," Cares said.
Leave a Comment
About the Contributor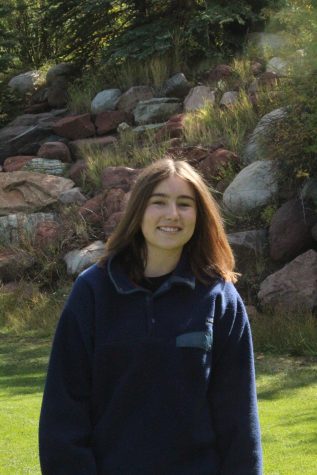 Harper Axelman, Editor-in-Chief







Harper Axelman is a senior at AHS and this is her third year writing for The Skier Scribbler. She enjoys spending time outside, skiing, and...