Seniors and cancelled ex eds, how do seniors feel?
Many Aspen High School students of all different grades had their Ex Ed trips cancelled because of the ongoing COVID-19 pandemic. For seniors, this news hit especially hard, with this ex ed being their last.
Starting on August 11, 2021, just a week before school started for AHS, multiple Ex Ed trips were cancelled. Trips such as Mississippi Civil Rights, Behind the Scenes LA, From Here to Hemingway, and Pacific Soul Surfers were cancelled because it was unsafe. According to AHS Admin, COVID posed a danger to students within airports and on planes. For the trips on the east coast, there were some places in which hospitals weren't accessible because they were fully maxed out at the time. The AHS administration claimed they didn't want students traveling by plane and through airports.
Students with cancelled trips were put on either local trips, or one of the new trips the school created for this situation. These new trips were Bair Ranch, Gates of Lodore, and Green River Rats. The other options for Ex Ed trips were Shakti SUP and Local Yoga.
The seniors on these local or alternative trips already missed out on Junior year's Ex Ed from Covid, and were looking forward to their senior year ex ed trips, especially because they already had been on some of the best trips the school offers.
George Morrison, who was on an ex ed that got cancelled, ended up going on the Gates of Lodore rafting trip. Despite his Ex Ed cancellation, Morrison found a silver lining with his new Ex Ed opportunity. He felt as though his cancelled ex ed created a good experience with a new group of people he didn't know before.
"Being on the Gates of Lodore trip helped me meet new people and overall it was a lot better than I thought it would be," Morrison said.
Jesus Morales, also on the Gates of Lodore rafting trip, was initially on the Behind the Scenes LA trip, which was cancelled in mid-August. He was also upset his ex ed was cancelled, but was able to make the best out of it and have fun.
"Going into the trip after I found out it was cancelled wasn't great, but as soon as I was able to get to know the group and learn about the trip more, I knew I would have fun anyways and that's exactly what ended up happening," Morales said.
Leave a Comment
About the Contributor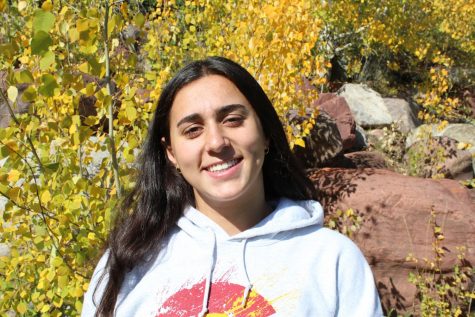 Kayla Tehrani, Editor-In-Chief







Kayla Tehrani is a senior at AHS. This is her third year writing for the Skier Scribbler and is very excited to be an EIC this year. In her...