ASD and Schoology, the reason behind the switch
This year, ASD switched from Google Classroom to Schoology to improve the AHS online learning environment.
According to Rodel, over 60,000 schools, 8 million students globally use Schoology.
The platform has more technological integrations than Google Classroom, such as IXL and LearnZillion. It also has a variety of interfaces that allow teachers to build a unique learning experience with integration to other platforms.
However, on Schoology, it is difficult to do everyday actions such as submitting assignments, checking up on homework, and viewing previous lessons. Both students and teachers alike were introduced to the Schoology platform very recently. This short notice has caused a lot of stress for students trying to adapt at the start of a new school year.
Students who have been in the district through their entire education haven't worked with anything but Google Classroom, causing distrust for students adjusting quickly. While teacher training did start last spring, it has still been a big adjustment for teachers who haven't used it before. Despite not being incredibly versed in the program, teachers expect students to be able to access assignments and turn them in. The School District introduced students so quickly that there was no time to learn or establish themselves for a smooth transition.
Kim Zimmer, the Technology Integration Specialist for AHS, was one of the driving forces behind integrating a more robust Learning Management System, or LMS. An LMS is a digital-based platform that can create an immersive environment for students. It links students to their teachers and assignments as though they were in a classroom. Schoology can do just that; it is immersive, connects students directly to their teachers, and delivers work from other programs to one platform.
When asked about how students and teachers have responded to integrating the new system, she states that "…in the midst of a really tough year last year and a summer off, it's hard to come back to a completely new system that's driving everything you do in the classroom," Zimmer said.
This abrupt change is difficult for students and teachers who have used Google Classroom for the entirety of their time in the district. With a mix of technical difficulties and plain misunderstandings, it has been tough getting started. Students sometimes can't see assignments, and after you turn in your assignment, it says it has yet to be turned in, something that Schoology is working on. It also does not send reminder emails on late or upcoming assignments as Google Classroom did. Thus, Schoology is less user-friendly but much more robust than Google classroom. Scott Zevin, a teacher, said that we should keep using Schoology.
"Schoology syncs to Powerschool directly which eliminates a lot of the hassle of taking grades from Google Classroom to Powerschool," said Zevin.
Haylen Gonzalez-Pita came from a school that uses Schoology and can help students with learning the platform. The extra help is beneficial for students whose other teachers may not be so versed.
"I think, just like with anything that's new, I think they're a little unsure of it, but we've I've been taking a little bit of time in class to answer questions about it and the waters seem to be smoothing out a little bit," Gonzalez-Pita said.
With the entire school online for almost a whole year, it became apparent that having a more advanced LMS was essential and that Google Classroom couldn't provide the proper elements for online learning. Students and teachers who were getting most of their information and work from Google Classroom needed to make life easier. Teachers needed grades to sync directly. Something Schoology does very well. It can even take grades from things like EdPuzzle straight to Powerschool. Students also needed to see all of their work on one tab instead of opening multiple to access everything they needed. Even before lockdown, it was apparent for Zimmer that we required an LMS like Schoology or Canvas. The new superintendent, and a global pandemic, ended up being the perfect catalysts for the switch.
"I couldn't necessarily see Google Classroom being this place where we could create fully immersive online experiences for students. I had no clue COVID was coming, and then when COVID actually arrived, I realized, oh my gosh, yes, our students are getting information from Google Classroom," Zimmer said.
Powerschool, the district's platform for grades and attendance, recently acquired Schoology, creating a significant positive force that helped push it forward.
Chris Durham, the Director of Technology for AHS, has wanted to implement something like Schoology for years. With so many new influences hitting the school district, it was the perfect storm for a new program.
"I think, like with anything we're, going to grow into it and it's going to become a little bit more obvious as to the need for it and doing it that way," Durham said.
Image Caption:
Students from Sheri Smith's class, front to back, Martin Scanlan, Hudson Nunes, and Simon Holloway, get taught using Schoology in room 1239 in AHS on Wednesday, Sept. 29, 2021.
Leave a Comment
About the Contributor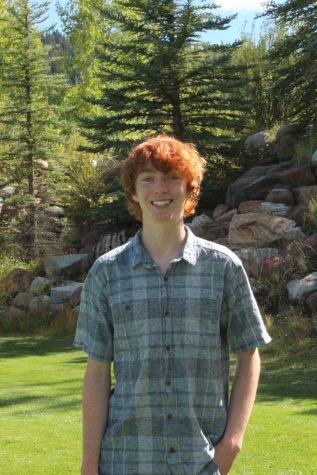 Beau Toepfer, News Editor
This is Beau's second year with The Skier Scribbler.  He is a junior and is passionate about the environment.  He likes to rock climb, ski, and be outside. ...